Water storage across 85 Indian reservoirs hit 39.32 billion cubic metres as of Friday, up 26% from a year before, offering a huge relief to the country facing the spectre of below-normal monsoon rains this year, reports fe Bureau in New Delhi. The storage was also 51% higher than a 10-year average, thanks to good showers last year, showed Central Water Commission data. Apart from irrigation, the water from the reservoirs is used for drinking, among others. Water storage in the northern regions, including the grain-bowl state of Punjab, stood at 39% of capacity as of Friday, compared with 34% a year before and much higher than a ten-year average of 25%.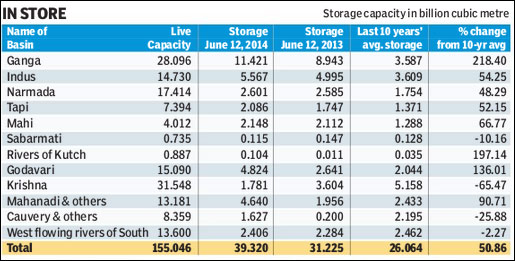 Importantly, the Met department has predicted the sharpest drop of 15% in seasonal monsoon showers from the benchmark 50-year average for north-western regions this year.

Water reserves across 22 reservoirs in the western region comprising top two cotton producers--Gujarat and Maharshtra-- hit 26% of the capacity, higher than 23% a year before and the decade's average of 20%.

Similarly, in the eastern region that mostly grows the water-intensive paddy crop, water reserves stood at 30% of the total capacity, up from 20% a year before and higher than the ten-year average of 13%. Storage across the central region comprising Uttar Pradesh, Uttarakhand, Madhya Pradesh and Chhattisgarh were running at 33% of capacity, higher than 24% a year earlier and the decade's average of 12%.

However, water reserves across the southern region including Andhra Pradesh, Karnataka, Kerala and Tamil Nadu reported storage at 13% of the total capacity, slightly higher than 11% a year before but lower than the ten-year average of 18%. The Met department has predicted a 7% shortfall in monsoon rains across the southern region this year.