The concept of the phablet has very strong roots in the Indian obsession for 'value for money'. People wanted a device that was as large as a tablet, but could also make calls. No need to buy or carry two devices for the same.
But as the phablet became a rage in India and many other geographies, some of these people realised that they were actually using these devices more as tablets and less as phones. That meant it was no longer necessary to keep the size of a voice calling device at something you could hold in one hand. As is customary, Samsung latched on to the idea before most others and made a killing with tablets that could make calls. Extremely awkward when you hold a device as large as a paperback to your ear, but very comforting when you realise that you have bought it for lesser than what you would get a mid-range smartphone for.
There is not much novelty in a tablet that can place calls. But there are newer players in the market. We recently laid our hands on the Asus Fonepad 7, among the first Android tablets to be powered by an Intel processor in India. This is important as Intel is slowly, but surely opening up to the opportunity that is the world's most popular mobile operating system.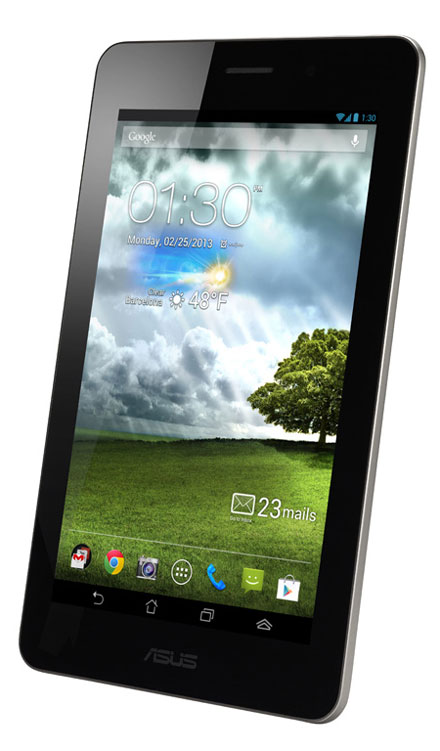 Design
The Fonepad 7 looks like any seven-inch tablet. It just about fits in your hand, provided you are a 35-year-old with decently large hands. It has a good grip, though for a device like this I would have preferred a textured back panel. With this smooth rear I can visualize me with a sweaty, or wet hand, dropping seven inches of tablet onto the hard floor.
You can't remove the rear flap and the micro-SIM goes into a slot on the left. The volume and power buttons are on the right. So is the micro-card slot. There are perforated strips for the speaker and microphone on both ends. Strangely, the bottom end has a magnetic field strong enough to latch on to a pin on the same table. I have never seen that happen with any mobile device. The rear camera is a bit of a pimple on the back, while the front one is neatly hidden. The 800 x 1280 pixels IPS panel is pretty good.