I have been wearing a smartwatch for over a month now. So when I finally got a chance to review the Samsung Galaxy Gear smartwatch, it was only natural that I started comparing it with my Pebble. Here are the results.
WATCH: There is no doubt that the Pebble is the better watch of the two. But that is not because it is more accurate in timekeeping, but because once you wear it you don't realise it is on your wrist. But the Galaxy Gear is a bit heavier and with a clip on strap and these two factors constantly remind you that there is something there. Plus, the review unit I had was bright orange and that sure got me more attention than I am used to. Then it has the camera bump on one side and that sort of reminds you that this is no ordinary watch. The Pebble on the other hand has so many watch faces that you can get one with which on one will realise that you have smartwatch on.
SET-UP: The Gear is very easy to set up. But the problem here is that is can be used only in tandem with a few top-end Samsung Galaxy smartphones. The Pebble on the otherhand works with most iOS and Android devices. But the Gear has something that make life so easy for the user. Thanks to NFC you can just tap the watch with its Galaxy phone to get a link. Both the Gear and the Pebble need the phone to install apps.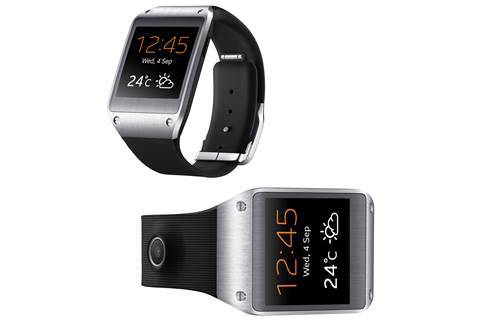 PERFORMANCE: You can do much more with the Galaxy Gear than you would with the Pebble. For instance, the Gear has a camera and that sorts of adds so many new scenarios to what you can do with a watch. Then this has a Super AMOLED display, compared to the Pebble's e-paper display and is hence capable of doing much more. While the Pebble shows calls, notifications and alerts from your phone, the Gear actually lets you dial and even make the call using just the watch and with the help of voice. And that is a wow feature that sort of made me feel a bit like James Bond. The audio quality is not all that good though, especially if there is a lot of ambient noise around. Then you