With a faux leather finish on the back and a fantastic stylus to change your method of input, the Samsung Galaxy Note 10.1 is ready to take on the iPad. But can it justify the 50,000-rupee price tag?
Quick Tech Specs: 10.1-inch Super Clear LCD display (2560×1600 pixels, 299 ppi) | 1.9GHz quad-core processor + secondary 1.3GHz quad-core processor | 3GB RAM | 32GB storage + microSD slot (up to 64GB) | 8MP rear camera (1080p FullHD video), 2MP front camera (1080p FulHD video) | 3G with SIM slot | Wi-Fi 802.11 b/g/n/ac, Wi-Di | Bluetooth 4.0 | 8220mAh battery | Android 4.3 Jelly Bean
Design: Is it plastic? Yup. Does it feel cheap? Nope. Samsung's devices have historically gotten a lot of flak for their "plastic-y" feel, but as we have seen with the Note 3, the introduction of a new faux leather finish on the back is changing all this. Couple that with ridged trimmings on the sides (again, plastic made to look like metal) and solid build quality, and it's hard not to be impressed with the look and feel of the device. Even the stylus, housed at the back, is perfectly flush with the design and gives you a satisfying click when you remove or insert it.
Screen: This is the highest resolution screen Samsung has put on its tablets and the result is clear to see when you're reading. Whether it's text or comics, the Note 10.1 can rival the iPad and any other slate out there. But the screen does take its toll on the processor.
Performance: You'd think that with two quad-core processors, the Note 10.1 could handle anything you threw at it. Unfortunately, there's a noticeable lag on the default TouchWiz UI itself. And it gets worse when you are multi-tasking between heavy apps like an HD game and the Chrome browser. If you're playing a game like FIFA 14 and receive a bunch of notifications in the background, you'll see a slight stutter now and again. At Rs. 50,000, this is unacceptable.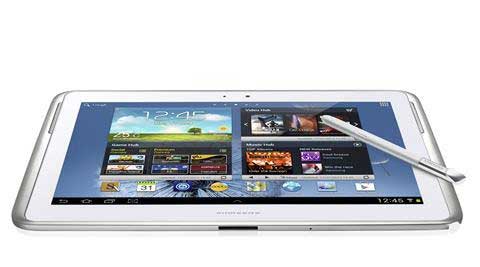 Memory: There's 32GB of built-in memory (of which 26GB is available to the user), and a microSD slot for another 64GB card.
Connectivity: Personally, I do believe tablets are best when you put a SIM card in them. It actually makes them more useable on the move, and that's the whole point, right?