I have been a dedicated iPad user since the middle of 2011 when the second version of the world's first tablet was launched. Over the past two years it has become my primary computing device, especially when it comes to consumption. Though a couple of years old, the iPad 2 is still a great device, as I am reminded every time I test a new tablet.  
Picture gallery: Comparing the Apple iPad Air to the iPad 2, MacBook Air and Google NExus 7
Three new versions of the iPad have come along since I started using one. Despite the superb Retina display screen that debuted with the third version, I have never been really tempted to upgrade my old iPad. That was until the Apple decided to come out with the iPad Air, much thinner and lighter.  
But the iPad has always been an amazingly thin computing device. How much more thin could the guys in Cupertino make it? This was question at the back of my mind when I finally got my hands of an iPad Air. 

Holding the iPad Air for the first time I was quite sure that this was lighter than my old tablet. There was no doubt about that. In fact, at 469 grams, it has become almost 150 grams lighter in comparison to my iPad 2 and shed almost 200 grams when compared to the fourth generation. That is quite substantial. 
But has it become thinner? I couldn't quite make out at in a single glance. On paper the iPad 2 is 9mm thick and the iPad Air is thinner at 7.5mm. But it is hard to make out the difference, though 1.5mm has been shaved off in comparison to the last three versions of the tablet. Keep the two devices side by side and it is almost impossibe to find a difference in height, at least to the naked eye.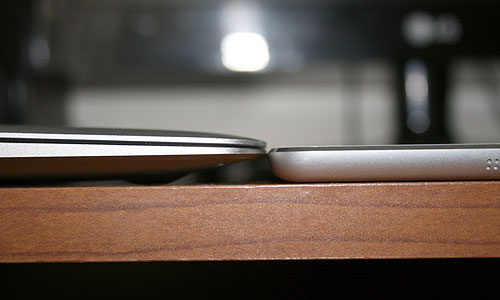 However, the iPad Air is smaller for sure. Because the bezel is now much thinner. Keep the two iPads one on top of the other and you can easily see that the iPad 2 is much larger. That could be where the cut in weight is coming from.  
The design is also a bit different. For along with the curved sides, there is a diamond cut edge that gives the iPad Air a chrome finish. The other difference is the volume button, of which there are now two instead of the earlier singe rocker.  
The Retina display is amazing as always. Just keep the iPad 2 and iPad Air adjacent to see