When was the last you saw someone buy a music system? Tough question, right? Well, the popularity of mobile phones has been at the cost of many devices, among them music players and music systems, which used to be a must-have gadget in all homes. Their large control units and speakers are being replaced in many homes by compact, event tiny, speaker systems and docks that play music directly from a smartphone.
Soen is a relatively unknown name in India. But this California-based company boasts of a great pedigree as it has been founded by designers, engineers and craftsmen who have worked for the best audio firms in the world. The company has brought out a compact Bluetooth speaker for mobile devices that it light and small enough to go anywhere the phone goes. But it is not that easy for small speakers to have the kind of audio output that will keep all listeners interested, especially the choosy kind like me. That is why we had to test the Soen Transit, which has just been announced in India.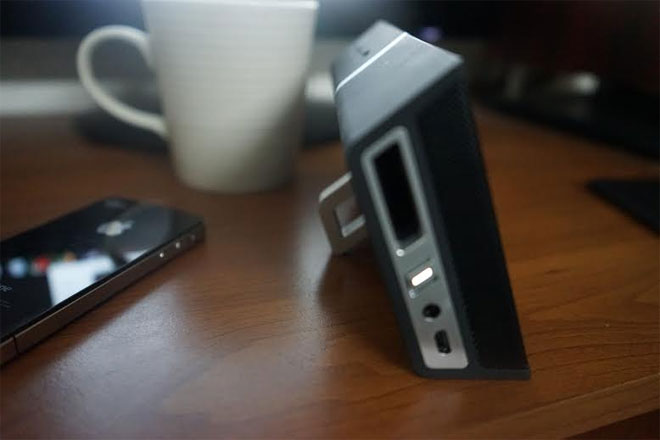 Design
As I said, the Transit is compact. In fact, with its magnetic leather cover on, it will remind you of a small jewellery box or a pipe case. The leather cover latches on to the device and keeps the grille and side grooves dust-free. Now, that is a big plus in a country like India where dust does its bit to make life hell for the best of speakers. I would have liked the device to shut every time I kept the cover on it, but life is seldom that simple. For on/off, there is a button on the side with an LED indicator. This will turn blue, along with a subtle beeping sound to show that the device is ready to pair with a phone or tablet. The pairing is swift and the LED will turn white to show its ready to play.
On the read is a pushed down lever that reveals a small stand to hold the device in place in horizontal mode. It can stand up vertically too, just ensure that you keep the side with the charging and Aux ports, the bass port and power button on top. The volume buttons are large enough for you not to look at it to locate.
The device has a soft rubber finish which makes it ideal for rough use. There is no scope of acquiring scratches. There is a bit of chrome here and there along with the black body and grille, but it does not seem loud in anyway.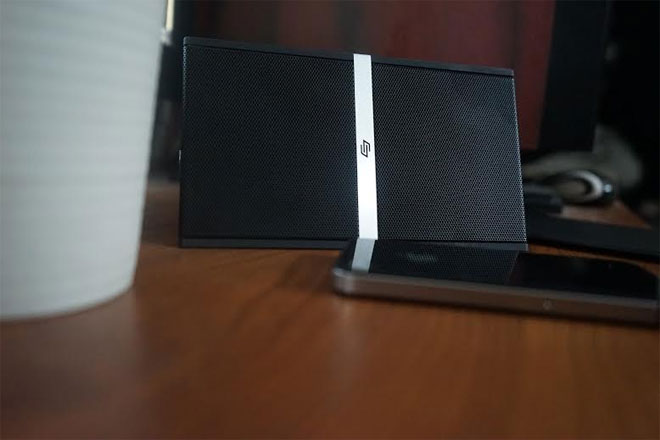 Performance
Having tried many small Bluetooth speakers, I am not always optimistic about their performance. There have been great exceptions like the Bose Soundlink, but those are few and far in between. That is why the Transit came as a pleasant surprise. It has just the right amount of bass for me, as I don't list to a lot of songs that need a bass blaster. However, with a Joe Satriani guitar number thrown at it, the Transit showed it could do much more than Jagjit Singh and John Denver. This is just my kind of speaker, for my kind of music.
It can be loud too when needed. But volume is limited to that of the device from which the music is being streamed. So if the phone's maximum volume has been set at 80 per cent, this won't go beyond.
The sound it very directional. It is meant to be used as a personal speaker with the phone which is the most personal of all gadgets. So someone sitting behind the speaker might not be bothered by the music that is intended for those in front of it. On the other hand, this might not be a great party speaker because of this feature. Think of this more as a speaker for your office bag and not one for the rooftop gazebo.
The added advantage of the Transit is that, like most other Bluetooth devices of its kind, it can also be used to make/receive calls. The sound quality on the other side is clear and not blaring out loud this side.
Another unique feature is that the when connected with an iOS 7 device the Bluetooth indicator on top will also show he battery status of the speaker. I haven't see that before and it is a great little detail to have, given that there is no way to see how much battery is left on the speaker. Anyway, the battery of the device is good to play music for a maximum of seven hours on full volume. It works a bit longer when connected using the auxiliary cable and not wirelessly.
Should you buy it: Yes, if you are looking for Bluetooth speaker that gives quality sound wherever you are. Though Soen has got the partnerships in place to sell the product at its international price of $199, it is still a bit expensive for some buyers. However, it is still a lot cheaper than the Bose Soundlink which I think is the pinnacle in this range. But for a lot less you get a speaker that is almost as good in all respects.
Price: Rs 12,990
Rating: **** ½
Available on Love4Apple, Amazon.in and Soen Audio Store