it ideal for rough use. There is no scope of acquiring scratches. There is a bit of chrome here and there along with the black body and grille, but it does not seem loud in anyway.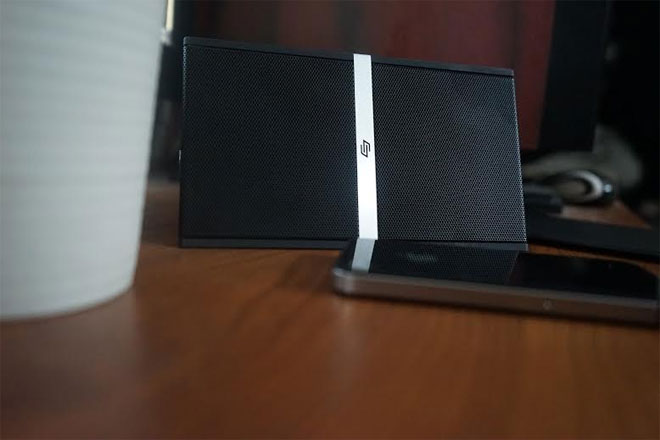 Performance
Having tried many small Bluetooth speakers, I am not always optimistic about their performance. There have been great exceptions like the Bose Soundlink, but those are few and far in between. That is why the Transit came as a pleasant surprise. It has just the right amount of bass for me, as I don't list to a lot of songs that need a bass blaster. However, with a Joe Satriani guitar number thrown at it, the Transit showed it could do much more than Jagjit Singh and John Denver. This is just my kind of speaker, for my kind of music.
It can be loud too when needed. But volume is limited to that of the device from which the music is being streamed. So if the phone's maximum volume has been set at 80 per cent, this won't go beyond.
The sound it very directional. It is meant to be used as a personal speaker with the phone which is the most personal of all gadgets. So someone sitting behind the speaker might not be bothered by the music that is intended for those in front of it. On the other hand, this might not be a great party speaker because of this feature. Think of this more as a speaker for your office bag and not one for the rooftop gazebo.
The added advantage of the Transit is that, like most other Bluetooth devices of its kind, it can also be used to make/receive calls. The sound quality on the other side is clear and not blaring out loud this side.
Another unique feature is that the when connected with an iOS 7 device the Bluetooth indicator on top will also show he battery status of the speaker. I haven't see that before and it is a great little detail to have, given that there is no way to see how much battery is left on the speaker. Anyway, the battery of the device is good to play music for a maximum of seven hours on full volume. It works a bit longer when connected using the auxiliary cable and not wirelessly.
Should you buy it: Yes, if you