Indians seem to be spending more on discretionary items such as education while expenditure on food items has declined in the two year period between FY10 and FY12.
However, inequality seems to have increased as the spending gap between the rich and poor has almost doubled. The findings are a part of the National Sample Survey Organisation's (NSSO) survey on level and pattern of consumption expenditure between July 2011 and June 2012.
Malaysia Airlines Flight MH370: Artworks convey hope
According to the data, spending on food accounted for 53 per cent of the average rural household consumption during FY12 while it made up 42.6 per cent of the household budget in urban areas.
"The share of most of the food item groups in total consumption expenditure was higher in rural than in urban India, fruits and processed food being exceptions," said the report.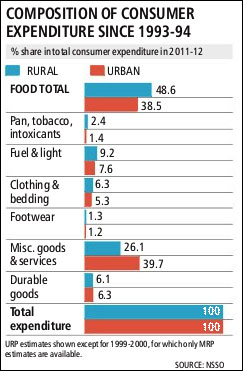 Noticeable rural-urban differences were in the case of cereals (urban share: 6.7 per cent, rural share: 10.8 per cent), rent (urban: 6.2 per cent, rural 0.5 per cent) and education (urban: 6.9 per cent, rural: 3.5 per cent).

But worryingly, the monthly per capita consumption expenditure of the top 5 per cent of the rural population was nearly 9 times that of the bottom 5 per cent. This further widened in urban areas, where the average consumption by the top five per cent of the population was about 14.7 times that of the bottom 5 per cent.

Also check: