In a climate of rising car prices, costly fuel and high interest rates, prospective buyers are looking at cheaper options within a segment and are increasingly favouring used cars that have seen rising sales
As the economy navigates a slowdown, consumers are moving away from the fancied car market and in the five-month period between April and August of the current financial year, it was only in August that the passenger vehicle segment witnessed a marginal rise in sales when compared with the same period last year.
In the first four months of this financial year, the sales witnessed a slowdown. For the five month period the sales of passenger vehicles stood at 9,82,847 units down by 5.5 per cent over that registered in the same period last year.
The slowdown in the economy, rising car prices, high interest rates and rising high fuel cost are all having an impact on the buyers sentiment. The result has been a change in the consumption pattern of individuals when it comes to buying cars. If the new car sales are on a decline, the used car sales are on a rise as consumers feel that the saving on buying a used car would save them enough to fund their fuel consumption for at least three years.
Industry insiders say that in the five-month period when the aggregate sales have dipped by 5.5 per cent, the used car sales have gone up between 22 and 25 per cent.
There has also been a change in the consumer's behaviour as insiders say that they are going for cheaper options in the same segments and not going for the ones that they may have planned to buy earlier.
Financial planners say that car buyers in these times can either defer their plan and go high on savings or if they have decided to buy one then they should raise their own contribution and go for as less loan as possible.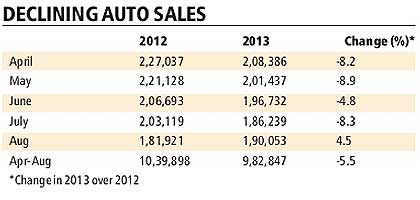 While consumers are not rushing to the dealer, the banks financing passenger vehicles too are facing a drag in the demand for auto loans.
Ashok Khanna, business head, vehicle loans at HDFC Bank, which is the market leader with around a quarter of the market share, told The Indian Express that there is a definite slowdown in demand and he expects his growth to come down to around 5