The 'India Risk Survey (IRS) 2014' of FICCI-Pinkerton said the top five risks that affect Corporate India are 'corruption, bribery and corporate frauds', 'strikes, closures & unrest', 'political & governance instability', 'crime' and 'information & cyber insecurity'.
However, there are some variations in perception of risks in some industries due to the typical nature of work.
'Corruption, bribery and corporate frauds' was ranked at No. 4 in 2013 survey. 'Strikes, closures and unrest' has been rated as No. 2 risk and continue to command serious concern from corporate India. In the 2013 survey, it was ranked as No. 1.
Political and governance instability ranks No. 3 as political uncertainty surrounds the forthcoming general elections.
Overall risk ranking: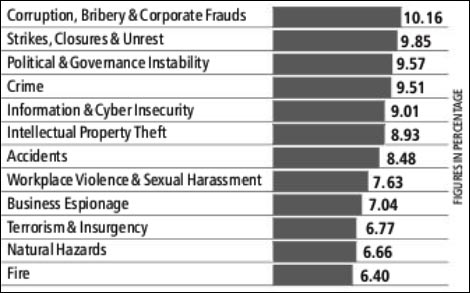 The Top three risks in each industrial sectors: