As many as 285 projects, involving investment over Rs 16 lakh crore, are pending with the government, part of the legacy the new government has inherited from the UPA. These have been held up either for want of clearance or because of obstacles created as a result of turf wars among various ministries during the UPA regime.
Amid the perception of policy paralysis in turn paralysing the economy during the previous regime, a project monitoring group (PMG) was set up under the cabinet secretariat last June. The PMG, headed by Anil Swarup, an additional secretary-ranked officer, was assigned 437 projects worth over Rs 21 lakh crore. It has resolved issues relating to 152 projects in the last one year, paving the way for investments worth Rs 5.32 lakh crore.
The PMG was given 62 projects to start with, but within months found itself facing a rush from industries seeking resolution of issues in various sectors. By January, the number of projects had crossed 400. Of the 437 that reached the PMG eventually, 342 entail investments over Rs 1,000 crore.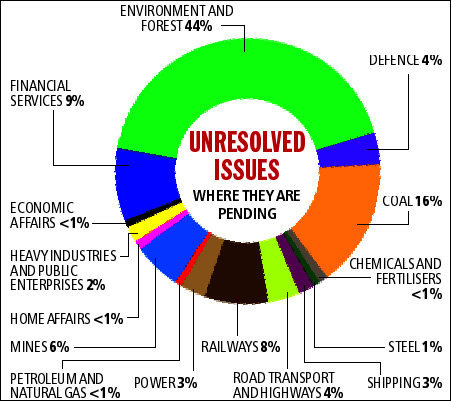 The 437 projects were burdened with about 1,200 issues, say sources briefed about the investments being monitored by the PMG. While most of the stalled investments related to projects in the energy sectors (power, coal and petroleum), the majority of the issues that stalled these investments pertained to the ministries of environment and coal.
In enabling the clearance of 152 projects, the PMG resolved about 300 issues, the sources say. Government sources hinted that the new government under Narendra Modi wants the PMG to closely follow the progress of these 152 projects to ensure that they have started to deliver what they are meant to.
A government source said the department of financial services has so far sought and accessed the investment information for 121 of the 152 projects. These are worth about Rs 3.8 lakh crore, and Rs 3.1 lakh crore of that has already flowed in since these projects were cleared, the source said.
Sources said that of the 285 projects pending resolution, over 65, worth about Rs 4.7 lakh crore, are at present beyond the scope of the PMG as they are either stuck in litigation or will require a policy decision from the cabinet to resolve. That still leaves nearly 220 projects, worth