Strong rural market growth and the return of demand for petrol cars have sparked hopes of a turnaround in the auto sector that has stagnated now for around two years, according to the Society of Indian Automobile Manufacturers (Siam).
The optimism comes on the back of 18 per cent jump in two-wheeler sales for both the festive months — October and September — besides a 7 per cent rise in utility vehicle (UV) sales at 57,020 units in October, on the back of new launches like the Ford EcoSport and Nissan Terrano, after three consecutive months of decline.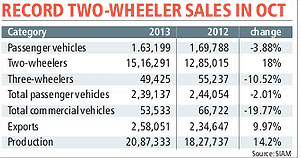 Although, car sales fell 3.88 per cent at 1.63 lakh units in October, the rate of decline has been steadily coming down over the last few months on the back of rising petrol car demand. Higher petrol car sales are significant because most mini and compact car models like Maruti Alto, Wagon R and Hyundai i10 offer only a petrol engine option. Total passenger vehicle (includes cars, UVs and vans) sales in October fell 2 per cent at 2.39 lakh units.
Vishnu Mathur, director-general at Siam said, "While we expect car sales to be overall negative for FY14, we feel a turnaround is happening and by FY15 car sales should be positive again. Gradually there is a reduction of the negative demand with every month since rural demand is up on the back of strong monsoons and there is a shift back to petrol cars. UV sales are being driven by new launches."
In October, Maruti posted a marginal decline in domestic sales at 79,040 units, while Hyundai Motor India saw its sales grow marginally to 35,973 units. Tata Motors' domestic passenger car sales crashed by 33.44 per cent to 10,944 units in October. Motorcycle sales in October grew by 18.05 per cent to 11,05,103 units from 9,36,122 in the same month of the previous year. "The October sales volume was the highest ever, bettering the previous best in October last year," Mathur said.
With PTI