Indian equities went into freefall on Tuesday, giving up 3.4%, as global ratings agency Standard & Poor's warned there was more than one-in-three chance of the country being downgraded. Fears of escalating tensions in Syria also spooked already-jittery investors, grappling with a depreciating currency and weak economic growth as Brent crude oil prices nudged $116 a barrel.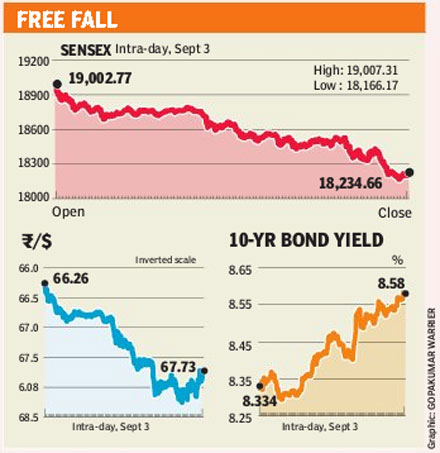 According to a Bloomberg report, S&P said there was more than a one-in-three chance of an India ratings cut within two years. S&P currently has a "BBB-minus" rating on India with a "negative" outlook. A downgrade would push Asia's third largest economy to "junk" status. International rating agencies Moody's and Fitch also have BBB- rating on India but with a stable outlook.
Meanwhile, after recovering in the past two sessions, the rupee plunged 3.4% on Tuesday to touch an intra-day low of 68.26 against the dollar, before recovering slightly to close at 67.73 to the dollar, 2.6% below Monday's close. The domestic currency has declined more than 22% since May 22 and 8.1% in the last month, the steepest decline among 78 global currencies, according to Bloomberg.
Not surprisingly, foreign institutional investors (FIIs) chose to take risk off the table, selling a net $106 million on Tuesday, with long-only funds also offloading stocks. Since May 22, when the US Federal Reserve first hinted at an early tapering of QE3, FIIs have sold $2.6 billion worth of stocks; they had bought $14.2 billion worth of shares between January 1 and May 21.The Sensex is now down 2,067 points or 10.18% since July 23. wiping out R6.8 lakh crore in market capitalisation. Foreign investors have pulled out $870 million from equities and $1.39 billion from debt in the last one month alone.
"S&P's belief that chances of a downgrade are higher for India than Indonesia spooked investors," observed Andrew Holland, CEO, Ambit Investment Advisors. Holland pointed out that S&P's warning together with other negatives such as the rupee depreciation, weak Q1 GDP numbers and weak factory activity data dragged stocks lower. The Sensex shed 651.4 points on Tuesday or 3.4% to end at 18,234, while the Nifty was down 209 points or 3.77% to 5341.
Bank of America-Merrill Lynch had cautioned two weeks ago that any significant sell-off from overseas investors could bring Indian markets crashing down since FII ownership in Indian markets was at an eight-year-high. According to news reports, Russian radar detected