Sachin Tendulkar ODI retirement: Everybody saw it coming, but there is still a certain melancholy surrounding Sachin Tendulkar's retirement from the one-day internationals.
For the last 23 years he has been an integral part of our lives and there were many who never wanted him to stop. But then, in sports there's always a finishing line where the journey ends. It was true for Don Bradman and Sunil Gavaskar, and it was true for Tendulkar as well.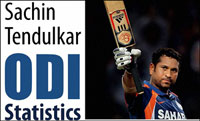 Video: Sachin Tendulkar retires from ODI
The question is about the timing. It is widely believed that Tendulkar should have retired after India won the World Cup on that heady night of April 2, 2011. The star played just two ODI tournaments in the last 22 months - the tri-series in Australia and the Asia Cup where he scored his 100th international ton. So in way Tendulkar hasn't really come in the way of a youngster aspiring to wear the India Blues. In if in mid-2011 Tendulkar thought that he had a few ODIs in him, the end of 2012 has seen him change his mind.
During the last few months he has been struggling for form as a Test average of 19.44 this year suggests. There was, however, a school of thought which said that Tendulkar should use the series against Pakistan and England to get into the groove before the Test series against Australia in February-March. But the aging veteran, after having a discussion with BCCI president N Srinivasan and chief selector Sandeep Patil last night, decided against it.
Tendulkar's decision is in sync with the present day demands of Indian cricket. With the retirement of VVS Laxman and Rahul Dravid, the Test team is in transition. But the ODI team is more or less settled.
Only last year the team had won the World Cup and there are some exciting talents like Virat Kohli, Ajinkya Rahane and Rohit Sharma on the horizon. They deserve their chances and a longer run and as India want to build a team for the 2015 World Cup, it was the right time for Tendulkar to hang up his ODI boots.
As Viv Richards has said, nobody has the authority to assess Tendulkar as a player. His 18,426 runs in 463 ODIs with 49 centuries is a testimony to his monumental effort for more than 23 years. But Tendulkar is a lot more than just the numbers.
After winning the World Cup Tendulkar had said that he would retire from the limited-overs cricket first and then from Test cricket. True to his words, he has called time on his ODI career. So, the focus will be on the four Tests against Australia with the series now getting a different dimension. Maybe it will be his last as a cricketer.
For more on Sachin Tendulkar follow Anant Goenka on Twitter: @anantgoenka