Samsung Electronics unveils many new products, including the highly anticipated Samsung Galaxy Note 3, Gear smartwatch during IFA Berlin 2013.
Samsung Galaxy Note 3 boasts of a larger screen and a 'much more enhanced' S Pen. According to Samsung, the phone has enhanced multitasking features, "you do not have to switch between tasks, one to the other."
Watch video: Introducing Samsung Galaxy Note 3
The IFA Berlin 2013 event was platform for many new products.
Galaxy Note 3, which has a 5.7 inch Super-Amoled screen will weigh 168 grams. The device will be available in 140 countries from September 25 starting at price tag of $860 and the worldwide availability will be from October.
Photos: Samsung unveils Galaxy S4
The phone will be available in jet black, classic white, and blush pink color options.
"For the first time we have given Galaxy Note 3 a warm texture-touch cover," claimed Samsung. "It is slimmer, lighter, and more powerful. All in a beautiful design, JK Shin, President & CEO Head of IT and Mobile Communication Division at Samsung Electronics said.
The Note 3 also boasts of a multi-window feature. T his is Samsung's option that allows you to have two apps side by side. This functionality also allows users to drag content from one app to another.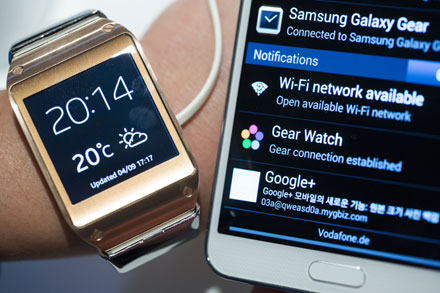 Samsung also showcased additional features to its S Pen stylus for the Galaxy Note 3. Samsung showcased a new Air Command menu on Note 3, with Action Memos, S Finder, Scrapbook, and Pen Window.
The S Note app on Note 3 is meant to the user to write, edit and view anywhere, said Samsung. The S Note app also syncs up with other apps like Evernote.
The device was unveiled at the event 'Samsung Unpacked 2013'. The launch comes as a part of the IFA consumer electronics fair.
Shin started the event by saying that the company launched a whole new category with the first Galaxy Note, back in 2011.
Samsung also showcased the Galaxy Gear watch. "Smart freedom. Perfect companion to Galaxy Note 3," Shin said.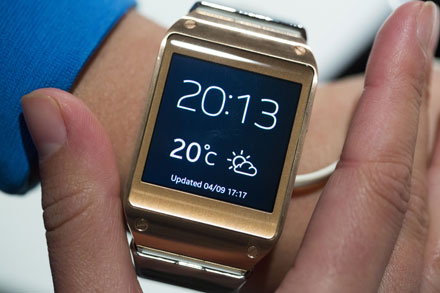 The Android-powered device starts shipping in most countries September 25 starting at $299. It will be compatible initially with two Samsung products also unveiled Wednesday _ the Galaxy Note III, which is a smartphone with a giant 5.7-inch screen and a digital pen, and the Galaxy Tab