Unlike smartphones, high-end tablets that run Android are few and far between. Even among the few premium Android tablets, focus on productivity is rare. Thatís why Samsungís 12.2-inch Galaxy Note Pro appears to be targeting a niche thatís waiting to be created.
When it comes to tablets and laptops, itís a black-and-white world. Tablets are for consumption, while laptops are for getting work done. Although some use tablets for productivity tasks, many still feel the need for a laptop. In such a situation, can the Galaxy Note Pro stand out? Letís find out.
Build & design
The Galaxy Note Pro looks unmistakably like a Samsung product. The oval home button, stylus and faux-leather material used at the back are reminiscent of the Note 3. Since the tablet shares Note 3ís brand name, the similar design ethos makes it easy to identify as a Samsung product.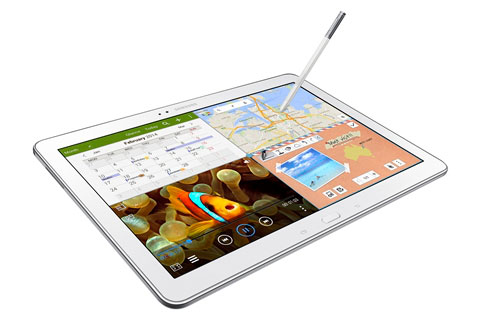 The faux-leather material is not universally popular, but in this case it is a positive. The material makes the tablet good to hold and adds to its looks too. The build quality of the tablet is good and the metal finish on the sides add to its sturdy frame. Itís hard to use this tablet with one hand, even though Samsung has made it sleek and light for its size.

One new component is the new charging port. The microUSB 3.0 charging cable looks like a two-headed snake. One of these heads is the standard microUSB connector, while thereís another, slightly wider connector right next to it. This means that you can use your phoneís microUSB cable to charge the Note Pro and transfer data, but that will be slower than with the new cable. The connector is quite ugly, but I guess thatís the price to pay for backward compatibility. Youíll also have to make sure that you maintain the cable very well. If you lose or break it, youíll have a hard time charging the Note Proís massive 9,500 mAh battery.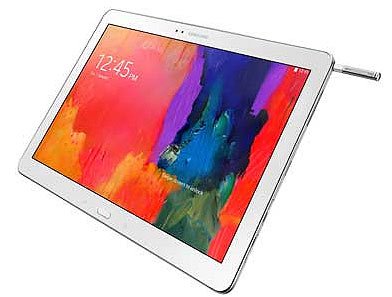 Display
Note Proís screen is 12.2 inches diagonally. Thatís larger than almost all tablets available in India. The resolution is a whopping 2560 x 1600 pixels. Needless to say, the Note Pro offers an amazing experience when watching videos. The same goes for reading books. I used this tablet as my primary ebook reader and was immersed in a few engrossing novels. I