with the Gear 2.
I started noticing the advantages of wearing a smartwatch like this on way to the airport itself, as I could see my notifications, including Facebook posts and mails pop up on the watch face. Waiting to check in at the airport, I could even take a few calls on the watch without having to pull out the Samsung Galaxy S5 from my tight jeans pocket. Yes, it is definitely awkward, but yet it works.
But that little James Bond gig had a few people coming over and asking me what I was wearing. Some even knew it was the Gear. But in a bid to reduce the 'sore-thumbishness' of a head turner like this, I switched the watch face to something that actually looked like a watch and kept the notifications in silent mode. They were still coming on the watch, but not really popping up.
I am sure I was not the only person wearing a smartwatch in the two Malaysian Airlines flights that took me to reach my destination. But none asks you to switch of a smartwatch in the flight, even though it has communication modules built in. And that comes with its advantages. You can click selfies with the clouds behind you and even shots of the horrible airline food. And with a camera like the one on the Gear 2, the pictures are really good. It even lets you take a photo with 9 seconds of audio, if you can figure out a good use for the feature.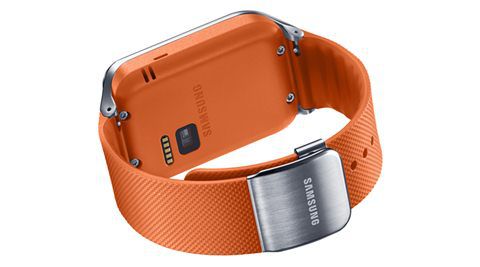 Verdict
The Gear 2 has rectified the biggest problem with its predecessor and now looks and works more like a watch that has fallen out of a StarTrek flying machine that just went over us. It is the smartest of all smartwatches and can seamlessly integrate with your daily life. Buy this only if you own a top-end Samsung Galaxy phone or it will be rendered useless. But for those who own a Samsung Galaxy S5 or Note 3, this is a worthy investment that can add fun and productivity to your digital life.
Price: Rs 21,900