The Securities Appellate Tribunal (SAT) will announce its verdict in the Sebi-Reliance Industries (RIL) alleged insider trading case on June 30. The RIL insider trading case has gone through several turns in the last seven years. Here's the timeline:
* 2007
Feb 22 – Sebi initiates probe pertaining to the dealings in the shares of Reliance Group's Indian Petrochemicals (IPCL).
Mar 8 – Sebi concludes investigation in the trading of the shares of IPCL.
* 2008
Sebi begins probe into the Reliance Petroleum (RPL) insider trading case and investigates into trades carried out in the RPL scrip between Nov 1 – 29, 2007.
* 2009
Mar 2 – RPL shareholders approve merger with RIL.
May – Sebi launches investigation into the RPL share dealings.
Sep 15 – RIL fixes Sept 29 as the record date for the RPL merger
Oct 8 – Sebi issues showcause notice to RIL, alleging the company with rigging share prices of its subsidiary RPL.
Dec 9 – RPL officially merged with parent RIL and delisted.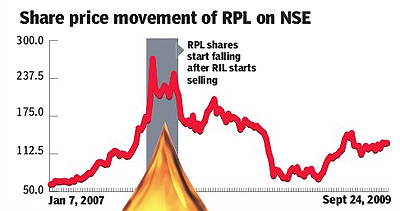 * 2010
Mar 5 – The Parliament is told that Sebi will further look into the trading of the shares of RPL, the merged entity. To initiate quasi-judicial proceedings.
– RIL approaches SAT after Sebi refuses to settle the case through its consent settlement mechanism
Dec – SAT begins hearing in the Sebi-RIL case
* 2012
May – Sebi strengthens consent norms, by excluding insider trading and other serious norms out of the settlement process.
Nov 8 – The Central Information Commission (CIC) directs Sebi to share the details of several entities that were involved in the RPL insider trading case in 2007. It also tells the regulator to share details of the investigation reports and proceedings on the consent application filed by RIL in this case.
Nov 21 – Sebi moves high court against the CIC order saying CIC cannot force the regulator to disclose details of investigations before the final order has been issued.
Dec 4 – The Bombay High Court makes RIL party to the case.
Dec – RIL tries to settle case through consent, but plea rejected for second time. RIL seeks time till Jan 14, 2013, to file a reply in the dispute between Sebi and CIC. The hearing moves to Jan 23, 2013.
* 2013
Jan 3 – Sebi publishes a list of 149 consent pleas, including