From satellites to binoculars, the hardware being used in the search for the missing Malaysian plane off Australia's west coast ranges from the sophisticated to the simple. Here's a look at some of the equipment being used in the search for Flight 370, which went missing on March 8.
ORION PLANES
The plane most utilized in the search so far has been the Lockheed P-3 Orion, a four-engine turboprop favored by the Australian and New Zealand defense forces. Because the search area in the southern Indian Ocean is so remote _ some 2,500 kilometers (1,550 miles) southwest of Perth _ it's an eight-hour round trip, leaving the planes just two or three hours to search.
One advantage of this plane is that it can fly at low altitudes for long periods. Mike Yardley, an air commodore with New Zealand's air force, said that his team's Orion flew at just 200 feet (60 meters) above the water Thursday to stay below thick clouds and fog _ which requires intense concentration by the two pilots.
Also read: Search for missing Malaysia Airlines Flight MH370 resumes in remote southern Indian Ocean
The Orion has a crew of 13, some of whom are stationed on an observation deck to search. As well as using their eyesight, Yardley said they also use a state-of-the-art radar system and three cameras _ one infrared, one long-range, and one high resolution. The combination of systems helps them detect almost anything that's on the surface, he said. The crew also films everything so they can review what they've seen after they return to base.
The Orion comes equipped with a sonar system for searching below sea level, although it's not being used in this search, Yardley said.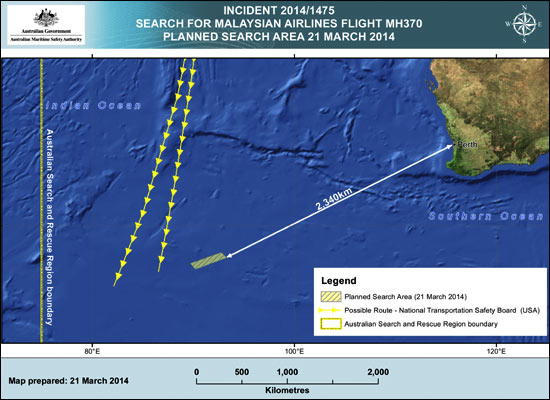 A graphic provided by Australian Maritime Safety Authority shows an area in the southern Indian Ocean that the AMSA is concentrating its search for the missing Malaysia Airlines Flight MH370. (AP).
Other planes used in the search Friday include a U.S. Navy P-8 Poseidon, which has been designed for anti-submarine warfare, and a civilian Bombardier Global Express, a long-range corporate jet with state emergency service observers on board. More planes are on the way.
>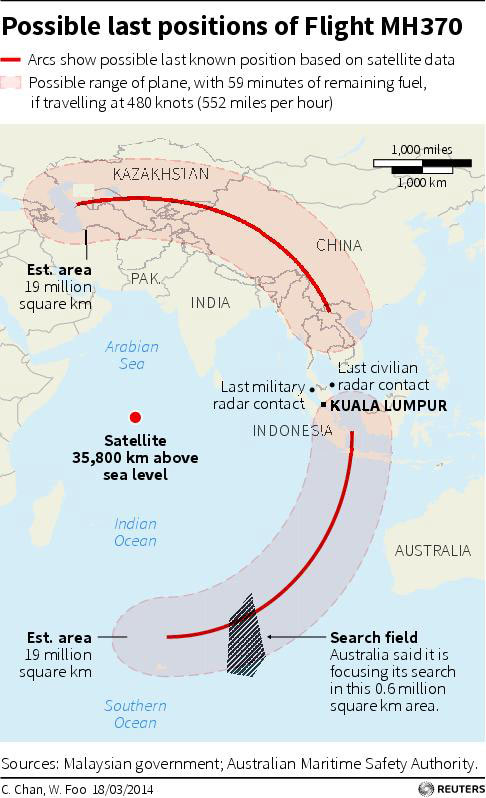 BINOCULARS
The Norwegian cargo vessel Hoegh St. Petersburg arrived in the area late Thursday and used lights to search overnight.
The Filipino crew of 20 was planning to