Two miles beneath the sea surface where satellites and planes are looking for debris from the missing Malaysian jet, the ocean floor is cold, dark, covered in a squishy muck of dead plankton and - in a potential break for the search - mostly flat. The troubling exception is a steep, rocky drop ending in a deep trench.
The seafloor in this swath of the Indian Ocean is dominated by a substantial underwater plateau known as Broken Ridge, where the geography would probably not hinder efforts to find the main body of the jet that disappeared with 239 people on board three weeks ago, according to seabed experts who have studied the area.
Australian officials on Friday moved the search to an area 1,100 kilometers (680 miles) to the northeast of a previous zone as the mystery of Malaysia Airlines Flight 370 continued to confound.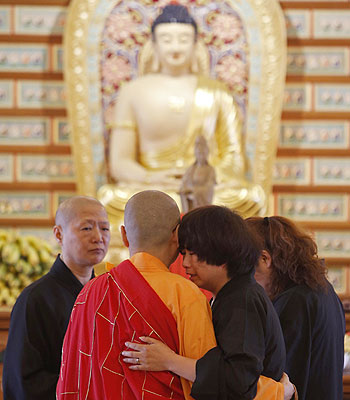 A Chinese relative of passengers onboard the missing Malaysia Airlines Flight MH370 is comforted by an abbess after prayers for their loved ones at Fo Guang Shan Buddhist temple in Petaling Jaya. (Reuters)
There is no guarantee that the jet crashed into the new search area. Planes that have searched it for two days have spotted objects of various colors and sizes, but none of the items scooped by ships has been confirmed to be related to the plane.
Malaysia Airlines MH370 plane: Latest photos
The zone is huge: about 319,000 square kilometers (123,000 square miles), roughly the size of Poland or New Mexico. But it is closer to land than the previous search zone, its weather is much more hospitable - and Broken Ridge sounds a lot craggier than it really is.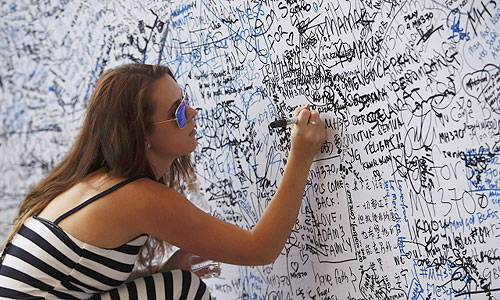 A woman writes on a wall dedicated to the passengers of the missing Malaysia Airlines flight MH370 during the the Malaysian F1 Grand Prix at Sepang outside Kuala Lumpur. (Reuters)
And the deepest part is believed to be 5,800 meters (19,000 feet), within the range of American black box ping locators on an Australian ship leaving Sunday for the area and expected to arrive in three or four days.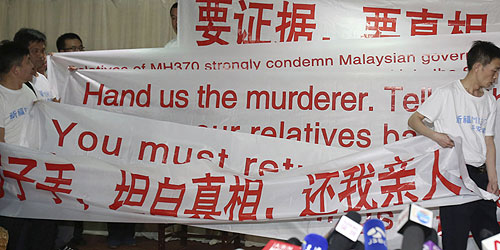 Newly arrived Chinese relatives of passengers on board the missing Malaysia Airlines flight MH370 arrange banners before speaking to reporters at a hotel in Subang Jaya, Malaysia.