An international search force resumed the hunt for missing Malaysia Airlines Flight MH370 in the remote southern Indian Ocean on Friday as authorities pored over satellite data to try and confirm a potential debris field.
The Australian-led mission said it was sending five aircraft back to a storm-lashed area some 2,500 km (1,500 miles) southwest of Perth. The search began on Thursday after analysis of satellite images identified two large objects floating in the ocean there that may have come from the Boeing 777 which went missing 13 days ago with 239 people aboard.
Investigators have said it is a credible lead but nothing beyond that. The search for the plane continues in other regions, including a wide arc sweeping northward from Laos to Kazakhstan.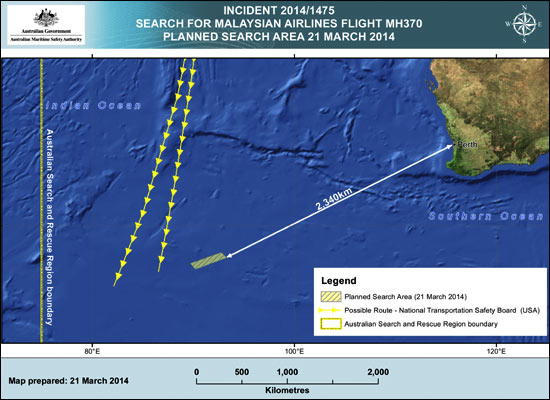 A graphic provided by Australian Maritime Safety Authority shows an area in the southern Indian Ocean that the AMSA is concentrating its search for the missing Malaysia Airlines Flight MH370. (AP).
The investigators suspect Flight MH370, which took off from Kuala Lumpur for Beijing shortly after midnight on March 8, was deliberately diverted thousands of miles from its scheduled path. They say they are focusing on hijacking or sabotage but have not ruled out technical problems.
A source close to the investigation said it might take "several days" to establish whether the objects spotted by satellite in the Indian Ocean came from the missing airliner.
A former senior crash investigator said there had been false leads in many investigations, especially in waters containing stray containers or dumped and lost cargo.
Three Australian P3 Orions would be joined by a high-tech U.S. Navy P8 Poseidon aircraft and a civilian Gulfstream jet to search the 23,000 square km zone on Friday, the Australian Maritime Safety Authority (AMSA) said. A Norwegian merchant ship that had been diverted to the area on Thursday was still searching there and another vessel would arrive later on Friday.
Also read: Malaysia Airlines Flight MH370 - Artworks convey hope
China's icebreaker for Antarctic research, Xuelong, or Snow Dragon, will set off from Perth to search the area, Chinese state news agency Xinhua cited maritime authorities as saying.
About two-thirds of the missing plane's passengers were Chinese nationals.
Australia's acting Prime Minister Warren Truss said Australia continued to examine satellite footage to pinpoint the location of the suspected debris, which included a piece estimated from the satellite imagery to be 24