Larsen & Toubro's Q4FY14 standalone revenues of R200.8 bn were in line with our estimates, but Ebitda margin of 14.4% (vs est. of 12%) was higher due to higher margins in the power (up 772 basis points), infrastructure (up 100 bps) and others segment. But cash conversion remained poor, as working capital-to-sales increased to 22% vs 17% in March 2013, leading to an increase in debt to R114 bn vs R88 bn in March 2013.
Whilst the standalone results (ex-hydrocarbon) were a surprise, L&T's FY14 standalone+ hydrocarbon revenue of R666.5bn and Ebitda margin of 10.4% were in-line. We have marginally upgraded our FY15/16 Ebitda margin estimates by 10bps/16bps to 10.6% /10.8% due to a rise in margins of power and others segment.
We expect FY14-17 working capital, excluding cash, as a percentage of sales to be 19.1% (10-year median of 14.4%) due to the high interest rate environment. Hence, despite 17% FY14-17 revenue CAGR, RoCEs (returns on capital employed) would marginally rise by 90bps from 14.2% in FY14 to 15.1% in FY17e. We reiterate our Sell stance with a revised TP (target price) of R1,325/share (vs R1,271/ share earlier).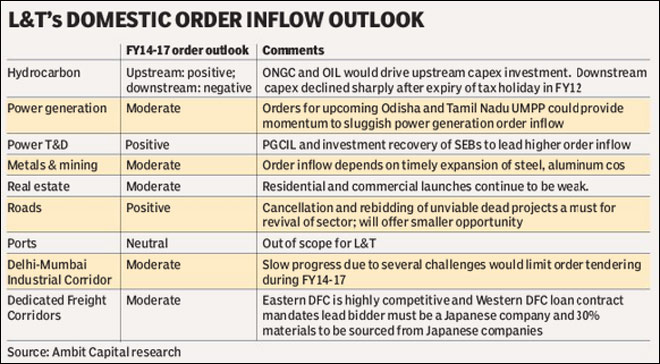 In-line standalone execution: L&T's order intake was flat year-on-year at R269bn on a high base of Q4FY13, resulting in a book-to-bill of 2.8x. The total order intake was at R941bn (up 15% y-o-y) driven by the infrastructure sector (order intake of R762bn). As a result, the company's order book increased 13% y-o-y to R1,630bn. Its revenues increased 11% y-o-y to R200.8bn. Standalone revenue growth was driven by revenue growth of 18% y-o-y in infrastructure and 42% y-o-y in the heavy engineering. But revenue growth in short-cycle industries declined: power (down 29% y-o-y) and metals and material handling (down 11% y-o-y).

Standalone Ebitda margins increased 267bps y-o-y to 14.4%, due to (i) a 100bps rise in infrastructure Ebitda margins to 11.6%, (ii) a 772bps increase in power Ebitda margins to 14.1%, (iii) Ebitda of R2bn in others vs Ebitda loss of R245m in Q4FY13, and (iv) exclusion of hydrocarbon revenues.

Reported PAT increased 69% y-o-y due to a 36% y-o-y increase in Ebitda, a 25% y-o-y increase in other income and a R4.8 bn gain from the stake sale in L&T Finance Holdings. The L&T standalone entity invested R43 bn in its subsidiaries in FY14, materially higher than the R12 bn invested