The infra push highlighted in President Pranab Mukherjee's address to the joint session of Parliament on Monday cheered the Street and sent stocks soaring to record levels, reports fe Bureau in Mumbai.
Both benchmark indices, the Sensex and Nifty, ended at new lifetime highs. The BSE Sensex ended 0.72% or 183.75 points higher at 25,580.21 points, while the NSE Nifty ended 0.94% or 71.94 points higher at 7,654.60 points. The Sensex is now the best-performing index in Asia this year, having returned 26.57% in dollar terms and beating gains from China's Shanghai Composite (-6.89%), Hang Seng (-0.78), Taiwan's Taiex (5.76%) and South Korea's Kospi (2.55%). India has even overtaken Indonesia's Jakarta Composite, which has put on 18.11%, and was the best performing market till a couple of weeks ago.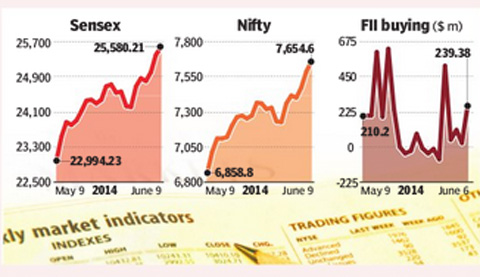 Foreign institutional investors (FIIs) have bought shares worth about $8.7 billion so far in 2014 with the highest net purchases in March ($3.7 billion) and May ($2.78 billion), the month the BJP won a decisive single-party mandate at the Centre. India has seen more overseas inflows this year than most peers with FII inflows of about $8.7 billion, which are higher than flows into Indonesia of just $3.7 billion and Taiwan's $7.7 billion. FIIs have been sellers in markets like Japan — net sales of $22.6 billion — and South Korea — sales of $2.2 billion.