How countries apply their trade policies has been of heightened interest since the early days of the Great Recession. While applied import tariffs have proven resilient to change, the temporary trade barriers of anti-dumping, safeguards and countervailing duties have become important to understanding the year-to-year churning that arises under modern commercial policy. We summarise evidence from the World Bank's Temporary Trade Barriers Database—that has been newly updated with data through 2013—for more than 25 major economies.
The leading indicator of forthcoming import protection involves government decisions to initiate new temporary trade barrier (TTB) investigations. Governments initiate such investigations after receiving petitions filed either by a domestic industry or by a labour group claiming to suffer injury from import competition.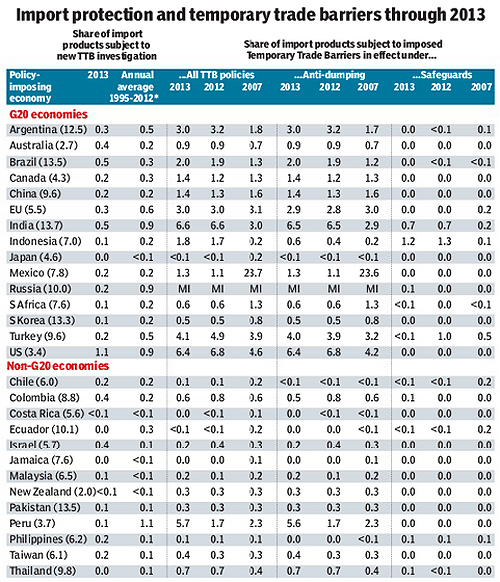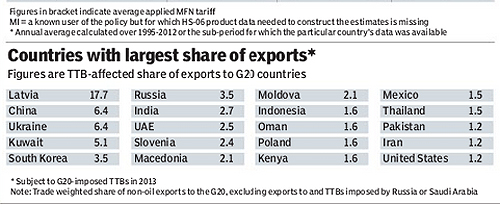 A substantial body of research across a number of high-income and emerging economies links these indicators to weakness in the underlying macroeconomic climate. Import protection has been shown to follow declines in domestic real GDP growth, increases in the unemployment rate, and real exchange rate appreciations. Further, among the relatively limited increases in import protection on aggregate witnessed during the Great Recession—including through tariff policies—TTBs turn out to have been some of the most economically meaningful.
Overall, the major economies experienced a relatively low share of their imports becoming subject to new TTB investigations. The evidence for both the G20 high income countries and emerging economies is that there were low levels of 'flow' of potential new import protection arising in 2013.
Furthermore, 18 of the 28 countries listed in table 1 had a smaller share of imported products in 2013 involved in new investigations than the country's annual average over 1995-2012. In fact, only Brazil, India, and the US had 0.5% or more of their products become subject to new investigations in 2013, and these are countries for which such higher levels are not atypical.
The second piece of goods news is evidence that cumulative levels of imposed TTB import protection in 2013 remained relatively flat or even declined slightly in comparison with 2012. A decline occurs when the share of imports covered by the TTBs being removed is larger than the share covered by the TTBs that are newly imposed.
Table 1 indicates that 14 out of 27 countries reported declines (or stagnant levels) in 2013 relative to 2012, and most of the 13 other reported slight increases.
By