The 'smart' cities of the future could have glow-in-the-dark trees to replace street lights, and gardens that grow vertically up walls, according to a new report.
Experts at Arup, an engineering and design consultancy headquartered in UK, envision a future city where trees will glow, and if it is icy, the pavements will be heated; and when it is congested, the Global Positioning System (GPS) will automatically reroute people.
The company is behind London's Garden Bridge project - a planned pedestrian bridge across the Thames that would be planted with grass and trees - and its concept of a future city is described in a report titled Cities Alive.
The report envisages "cities of the future as integrated networks of intelligent green spaces, designed to improve the health and wellbeing of citizens."
Arup suggests that more efforts should be made to plant vegetation wherever possible, and to integrate all the infrastructure more intelligently - such as by monitoring and rerouting cars, 'The Times' reported.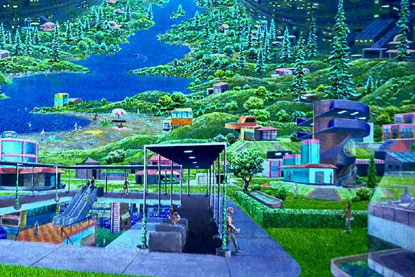 Experts envisages 'cities of the future as integrated networks of intelligent green spaces'.
The report also suggests use of genetically modified trees. The tree DNA spliced with that from bioluminescent organisms would allow it to convert renewable energy by day into light by night. This could allow trees to replace street lights entirely.
According to the report, plant-covered high-rise city blocks could help increase life expectancy and reduce absences at work through sickness.
Research has shown that workers with a view of a park are less likely to take time off, that increasing activities such as cycling slashes healthcare costs in the long run, and that crime rates can be lowered by greater access to vegetation.
The report also mentions a product called Starpath, a water-resistant, spray-on coating that makes roads glow in the dark.
Developed by a UK-based company Pro-Teq, last year, the coating absorbs and stores UV light during the day and releases it at night.
"Starpath has the potential to reduce the need for complex lighting installations in parks and alleyways while allowing for the introduction of lighting and the safety and security that brings," the report said.