The Indian aviation industry has become one of the most-watched in recent times.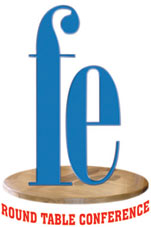 Growth in aviation is bringing its own challenges, and the future of the sector will depend on how the players tackle the rising fuel charges, taxation and a shortage of trained and efficient manpower, on and off the ground. Much will also depend on government policies. Will it allow the industry to grow unfettered? Will there be more consolidation in the sector?
To answer these questions, and many more, fe got together some of the top names in the aviation industry to deliberate upon the challenges and concerns. The participants in The fe Roundtable on Aviation, held in Mumbai recently, included Jeh Wadia, MD of GoAir, Kapil Arora, partner, advisory services, aviation, Ernst & Young, V Thulasidas, chairman, National Aviation Company of India, the newly formed entity after the Air India-Indian Airlines merger, Saroj Datta, executive director, Jet Airways, Rashesh Shah, chairman & CEO, Edelweiss Securities, and Kapil Kaul, CEO, Indian subcontinent & the Middle-East, Centre for Asia Pacific Aviation. Shivnath Thukral, managing editor, NDTV Profit, and Sourav Majumdar, deputy executive editor, fe, were the moderators at the roundtable. The excerpts:
Sourav Majumdar – deputy executive editor, The Financial Express: Good evening. Thank you very much for being a part of the feRound Table Conference (RTC). This time we have decided to take the RTC to the next level, pun intended, by choosing aviation as a topic, not just because we all travel by air and we know what problems we face but also because it is an important issue at this point, for a variety of reasons, which we will go into as we progress with the panel discussion.
Ashok Chawla – secretary, ministry of civil aviation: Lots of reasons why the aviation sector is the flavour of the season. Let me try and identify three reasons. One, the sector has seen a runaway growth in the last 2-3 years. The growth in domestic passenger traffic has been of the order of 35% or so, international traffic 16%, and the airports today are handling a total of about 100 million passengers.
Secondly, the substantial economic growth of the order of 9%- 10% is obviously leading to a growth in the aviation sector because this has to compliment economic activity.
Thirdly, air travel for all of us has become both affordable and also increasingly aspirational. Let me very