A delay in the arrival of the monsoon and a 39% drop in seasonal showers from the benchmark level so far this year have dragged down the sowing of summer crops by 12.9%, the latest farm ministry data showed. A 4.2% fall in water storage level across 85 reservoirs in the country since last week added to the worry, as an inflation-wary government gets ready to face what the India Meteorological Department forecasts to be a below-normal monsoon season.
Area under paddy, one of the most water-intensive crops, had dropped 53.7% to 7.59 lakh hectares until Friday, compared with 16.4 lakh hectares as of June 21 last year. The planting of oilseeds dropped by an even sharper 84.9% until Friday, while that of cotton and sugarcane declined by 28.9% and 1.4%, respectively, from a year earlier. Similarly, sowing of pulses fell 30.5% from the year-ago figure. The country imports more than half its edible oil and one-fifth of its requirement of pulses annually and any drop in these commodities has the potential to stoke imported inflation.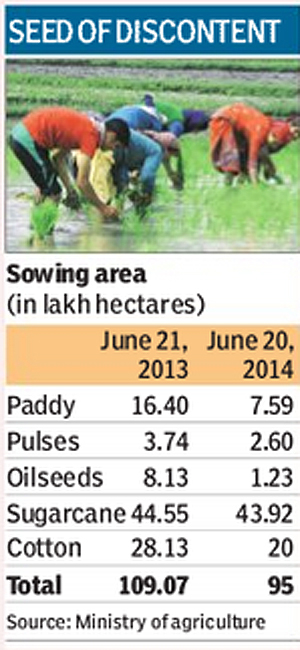 Summer crops are usually sown with the arrival of monsoon rains in June and harvested from mid-September.
Since the monsoon's arrivals over the Kerala coast, from where it progresses to other parts of the country, was delayed by five days from the usual date of June 1 this year, sowing has been affected, said a senior scientist with the Indian Council of Agricultural Research. "The country had also received a much higher quantum of rainfall until June 20 last year, which is why we see a wide gap in sowing between the same periods of last year and this year. Sowing is expected to pick up in the coming weeks as the IMD has forecast rainfall at 93% of the LPA for July," he added.
Monsoon rainfall so far this season has trailed the benchmark 50-year average by 39%, compared with a 54% excess rainfall over the long-period average (LPA) until June 19 last year, showed data from the IMD. Northwestern India — the grain-bowl region that is forecast to witness the maximum shortfall in showers, at 15%, this year — has seen a 46% drop in rainfall from the LPA so far.
Consequently, water storage levels across the country, which was 26% higher than the level a year before until June 12, significantly narrowed to just 0.54% as of