Shares of Ranbaxy Laboratories Ltd saw an unusual spike in volumes last week, which the regulator may want to investigate. On Monday, in $3.2-billion merger deal, Sun Pharmaceuticals acquired Ranbaxy in an all-stock transaction.
(Also read: 'Sunny days ahead for Ranbaxy Laboratories shareholders')
Ranbaxy Laboratories' average trading volumes over the last two weeks stood at 51.73 lakh shares against a one-month average of 36.39 lakh shares, a 42% spurt. The counter's volumes rose to 1.05 crore shares on Wednesday last week from a mere 15 lakh a day earlier. Thursday saw 82 lakh shares changing hands while Friday saw the highest volumes in two months, with 1.24 crore shares traded on NSE. The Ranbaxy Laboratories scrip has gained more than 25% over the last two weeks.
Also read: Why coming together of the two cos makes a potent combination (Sun Pharma buyout of Ranbaxy Laboratories will propel the combined entity to the number 1 spot in India)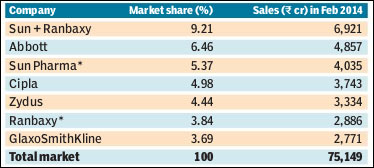 Exchange filings made in the first week of April and collated by Bloomberg show buying activity by certain investors. Blackrock had bought 4,607 shares, UBS AG picked up 709 shares and the US-based investment advisory firm Charles Schwab Investment Management had bought 300 shares.
Ranbaxy shareholders will get 0.8 share of Sun Pharmaceiticals for every Ranbaxy share they hold, as per the deal. The merged entity would be the fifth largest specialty generics drug maker worldwide and biggest player in the domestic market.
Major acquisitions by Sun Pharma

"Sun Pharma will be able to manage the acquired assets better. Ranbaxy shareholders will get a stake in a more stable and successful company," said Alok Dalal, pharma analyst, Motilal Oswal Financial Services.
Brokerages feel the move could help Ranbaxy come out of its regulatory issues. "Sun Pharma has a good track record of turning around distressed assets with recent cases such as Taro and URL. While we acknowledge that Ranbaxy will likely have its own challenges, we highlight that Ranbaxy's gross margins (63-64%) are largely in line with other Indian peers (indicates that geography mix or product-mix is not an issue). Regulatory overhangs and high fixed costs have depressed Ranbaxy's profitability, where Sun Pharma can bring its operational strength," BofA ML analyst Manoj Garg said in a report on Monday.
Four of Ranbaxy's