While Multi Screen Media, the host broadcaster for Indian Premier League (IPL), could turn out to be the biggest loser if IPL7 is scrapped since it was hoping to earn close to Rs 1,000 crore in advertising revenues, the Board of Control for Cricket in India (BCCI) stands to lose Rs 150 crore as do sponsors. The fate of the tournament hangs in balance with the Supreme Court proposing on Thursday that Chennai Super Kings (CSK) and Rajasthan Royals(RR) be suspended; without Mahendra Singh Dhoni, the tournament will lose much of its appeal.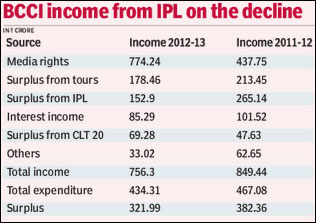 A stunned tournament sponsor PepsiCo India said: "The matter is sub-judice. We would not like to offer any comment." Pepsi got the title sponsorship of IPL last year with a reported bid of Rs 397 crore (to be paid over five years), almost double what DLF paid in 2008.

Even if the tournament is shortened, the losses could be significant. Rohit Gupta, president (network sales, licensing and telephony) for MSM, declined to comment on the impact of a shorter IPL 7 on on-air sponsorships.

"We will have to wait till we hear from BCCI on this," Gupta told FE. IPL-6 fetched MSM revenues of over Rs 900 crore and it was expecting a 15-20% increase this year.

The broadcaster is said to be negotiating advertising rates of Rs 4.75- Rs 5 lakh for 10-seconds spots and was looking at asking the co-presenting sponsors to shell out Rs 50-55 crore.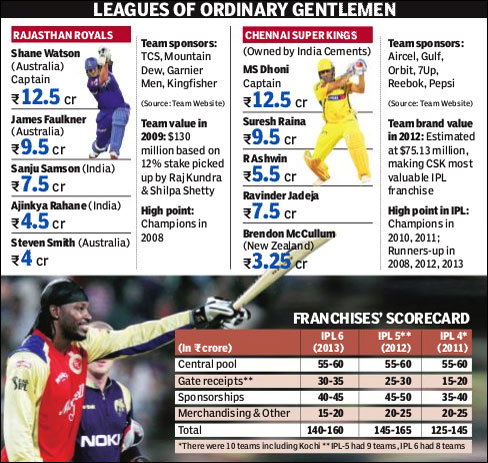 In 2011, Aircel signed the most expensive sponsorship deal in the IPL, paying more than Rs 85 crore to renew its deal. Chennai Super Kings is also believed to have the maximum number of sponsors, with roughly 20 brands associated with the team. A shorter IPL-7 would mean less value for advertisers, who together spend Rs 1,300-1,500 crore on a mix of on-air and team sponsorships during the nearly two-month long tournament.
Shorter tournaments will also mean re-planning the entire marketing and sponsorship spends. "As of today, advertisers have asked us to put all sponsorship-related buying on hold," said a senior media planner from a Gurgaon-based media agency. Shailendra Singh, joint MD of Percept, said the current crisis will give the brands an opportunity to re-negotiate their contracts. "The brands will see an opportunity in this crisis. Despite the current sad state of affairs, viewership won't be affected.