Bharti Airtel continues to sustain its growth momentum across India, South Asia and Africa. In Africa we have focussed on developing a long term sustainable business model.
Sunil Bharti Mittal CMD, Bharti Airtel
The world's fifth largest largest telecom operator by subscribers, Bharti Airtel clocked a revenue growth of 39% at Rs 43,201 crore in the nine month period of the current fiscal. The year was eventful for the company which completed the integration of its Africa operations, launched a new brand logo and bid for the highest number of circles for 3G spectrum among others.
Airtel has a market share of 20.3% in the wireless subscriber market. Its Ebidta margin for the quarter ended December was 31.6% while net profit for the nine months of the year 2010-11 dipped by 33% to Rs 4,646 crore. At the end of the calender year the company had crossed the milestone of more than 200 million subscribers across its markets. Its net debt to equity ratio was 1.28 and the net debt to Ebidta ratio was 2.88 as on December 31, 2010.
For the third quarter, is revenue increased by 52.9% to Rs 15,756 crore while its net profit fell by 41% in third quarter (October-December) to Rs 1,303 crore for the corresponding quarter of the last year. The company attributed the fall to the one-time re-branding cost, increase in spectrum charges and the adverse foreign currency fluctuation for the same.
The company began the year by buying 3G spectrum in 13 circles for Rs 12,295 crore and the BWA spectrum for 3,314 crore in 4 circles. Sunil Mittal, chairman Bharti Enterprises has said that the company would complete its pan-India launch of the 3G service by the end of March.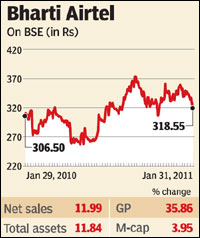 During the year Airtel crossed the milestone of 200 million subscribers at the end of December 2010. Of this 160 million were in India and the South Asia region and the remaining 40 million were from its Africa operations. In a record time span of less than a year Airtel successfully completed the integration of Zain telecom into Bharti Airtel. "This has been one of the fastest integrations across the globe," Manoj Kohli head of Airtel's international operations said.
As a part of integrating its Africa operations and streamlining its operations in South Asia, the company spent Rs 340 crore on a brand relaunch across 19 countries of its