Articulating the NDA government's plan with respect to the food security law, bequeathed to it by the predecessor regime, food minister Ram Vilas Paswan on Thursday asked all states to ensure complete roll-out of the scheme latest by the first week of October. Paswan pegged the food subsidy for FY15 at R1.31 lakh crore, against R1.15 lakh crore in the February interim budget, even though the deadline for implementation has only been pushed back by three months from July 4.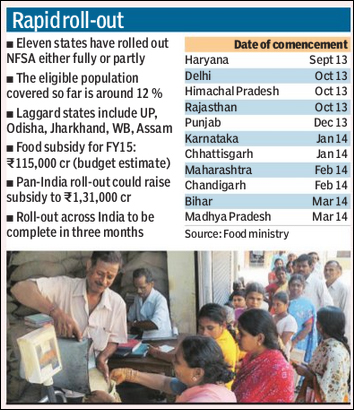 The food ministry, the minister said after a meeting with Prime Minister Narendra Modi, was convening a meeting of state food ministers on July 4 to chalk out the strategy and discuss any problems faced by them in implementing the scheme.
Eleven states have so far implemented the National Food Security Act, 2013, some of them fully and others partially, resulting in pan-India coverage of 12% of the intended beneficiaries.
However, many of the larger states including Uttar Pradesh, West Bengal, Odisha, Jharkhand, Andhra Pradesh and Telangana, all states with a substantial poor population, have yet to take the plunge.
Tamil Nadu, which provides free rice to the poorest sections by reinforcing the Centre's Antyodaya Anna Yojana with additional state support, feels the NFSA is redundant in its case.
While the Centre has estimated the annual cost of statutory food security at a little over Rs 1 lakh crore, not much higher than the extant food subsidy bill (Rs 92,000 crore in FY14), experts have said this could be a grave underestimate. Ashok Gulati, chair professor (agriculture) at the Indian Council for Research on International Economic Relations, for instance, had said the annual food subsidy bill could increase to over Rs 2 lakh crore in case the new law is enforced. Since the law compels the government to stock much more grains than needed to disburse through the PDS and keep a strategic reserve, prices in the open market could rise, stoking inflation, experts have warned.
Gulati told FE: "As regards NFSA, the problem is that most of the states have yet to identify the beneficiaries based on the social census. Also, the PDS leakages run at around 40%. So there should not be any hurry to implement NFSA. We need to fix the system before putting more resources into it."
The NFSA's stated objective is to provide 5kg of grain —