External earnings for India comprise of (1) merchandise exports, (2) services exports, and (3) remittances or transfers from non-resident Indians (NRIs). These external earnings have in aggregate surged around six times from $23 billion in Q1FY04 to $135 billion in Q3FY14. On an annual basis, external earnings increased from $115 billion in FY2003-04 to $520 billion in FY2012-13. During the same period, merchandise goods and services exports increased five times each, and remittances increased three times. Also, since FY08, all three components have almost doubled.
External earnings as a percentage of nominal GDP moved up from 20% in 2004 to its peak of 31% by September 2008. It bottomed out with a low of 23% in March 2010 and is now close to its previous peak (chart 1). Exports, both merchandise and services, took off after 2004 (chart 2) with a sharp dip during the 2008 global financial crisis. The annual growth in total external inflows smartly recovered in 2010 before tapering off again by the end of 2011.
The latest data in Q3FY14 shows that the share of services export in total has increased to 28% from around 17% in the 1990s, while that of merchandise export has moved down to 59% from its highest level of 77% in 1991. Even though the absolute growth in remittances since 2000 has been substantial (450% from $12.3 billion in FY1999-00 to $67.7 billion in FY2012-13), its share in total external earnings has come down (from 18% to 13% during the same period) and perhaps needs a review to bolster them. According to a World Bank report, India topped the list of countries receiving remittances from overseas workers at $70 billion in 2012-13 followed by China with $60 billion and the Philippines with $25 billion.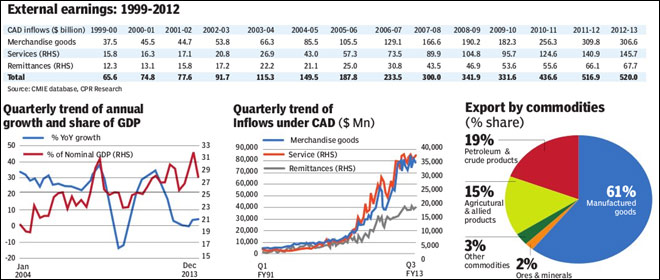 Interestingly, India's share in world exports, which was higher than China's in 1953, declined thereafter and reached a mere 0.8% in 2002. Since then it has doubled to 1.6% in 2012 but still far below China's, which, in the meantime, has established itself as world's leading exporter with a share of 11% (World Trade Organisation data). The absolute size of China's goods export in 2012 was $2,049 billion compared to India's $306 billion in 2012-13.

But India's share in world commercial services exports increased significantly from 0.6% in 1990 to 3.2% in 2012, with its rank among service exporters improving from