The India Meteorological Department has rained on the investor sentiment parade. Even as the mood was looking up on hopes of decisive policy action from the Narendra Modi government, the IMD on Monday said the monsoon showers this season will likely be even lower than previously forecast. It said the rainfall would be 93% of a benchmark average for 2014 with a model margin of 4%, down from its April prediction of 95%, causing analysts to apprehend low farm sector growth this fiscal and another spiral in food inflation.
What compounds the concern is a 33% chance of deficient monsoon rains, which the IMD defines as below 90% of the long period average (LPA) of 89 centimetres of showers recorded between 1951 and 2000, compared with that of 23% forecast in April. Even chances of an El Nino effect, which had caused the worst drought in 37 years in 2009, are pegged at more than 70% now against 60% in the first prediction for this year. The IMD defines normal rains at 96-104% of the LPA.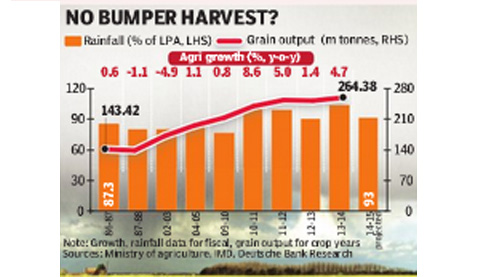 A 21.8% deficit in rainfall in 2009-10 shrank grain production by 6% and farm sector growth hit just about 0.8%. Farm-sector GDP growth stood at a healthy 4.7% last fiscal compared with 1.4% the year before.
The weather office gives 38% probability to below-normal monsoon rains and a 26% chance for a normal monsoon. Rainfall is likely to be 93% of the LPA in July and 96% during August, both with a model margin of 9 %, the Met said.
Coming on the back of a delayed arrival of monsoon over the Kerala coast by five days from the usual date of June 1, the gloomy rainfall forecast puts additional pressure on a new government that has listed tackling inflation as its top priority. The monsoon's progress will also be closely tracked by the Reserve Bank of India while reviewing monetary policy as poor rainfall may drive up the retail inflation index, in which food and beverages account for roughly 40%.
Former Commission for Agricultural Costs and Prices chairman Ashok Gulati said: "It could be the first major challenge for the new government. Can it compensate farmers in states that are going to face drought? Food prices for consumers could rise further." Retail inflation, the new benchmark for monetary policymaking, continued to be above 8% since