Pulling up the power producers Tata Power Ltd and Adani Power, the Supreme Court on Monday said that the firms cannot seek higher tariff on account of adverse impact of the unforeseen and unprecedented escalation in the imported fuel prices after bagging contracts for supply of electricity to state discoms on the basis of tariff-based competitive bidding process.
A bench headed by Justice JS Khehar while asking the Appellate Tribunal for Electricity (Aptel) to decide the matter as expeditiously as possible also said that senior counsel Harish Salve and Abhishekh Singhvi, appearing for "Tata and Adani have made a statements before the court that they will accept payments without prejudice in terms of the PPAs. In view of the statements made by them, the impugned order of the tribunal is rendered inoperative."
This in effect would mean that Tata Power and Adani Power cannot now charge hiked tariff from March 2014 as ordered by the tribunal on July 21.
The Tribunal's order would have provided a cushion to the companies against escalation in cost of imported coal for the plant.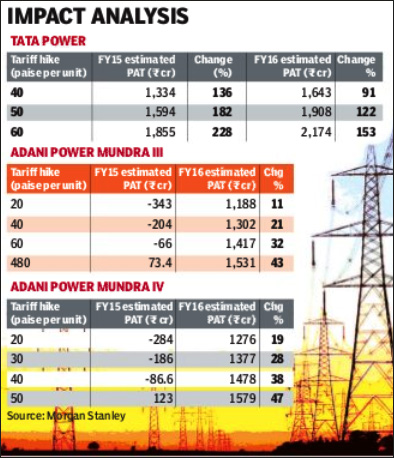 After March 2013, the tribunal had awarded Tata Mundra UMPP compensatory tariff at 52 paise per unit and Adani's Mundra project had got compensatory tariff at 41 paise unit.
During the course of the hearing, the bench came down heavily on the companies saying contract has been given to them "on tariff-based competitive bidding. You (Tata and Adani) would have kept everything in mind and even cost for a period of 25 years. Once you agree to it how can you ask for increase in prices now....Its a contract which you had agreed to. Now you can't claim that its a loss."
"You have been awarded the contract because you were the lowest. You are saying you buy coal from Indonesia. But you can get it here. Whether it is available here or not it's your decsion, " Justice Kehear said when the companies were trying to justify the Aptel's order that allowed Tata Power and Adani Power to recover dues from procurers on account of unforeseen rise in import cost of fuel but maintained that arrears from before March 2013 cannot be recovered by power producers.
Salve argued that "54 paise increase has been given to me (Tata). Tentatively. it doesn't come to even one