We love our SUVs in all shapes and sizes, and carmakers have acknowledged this fact. There's a slew of all-new SUVs and refreshed versions of existing SUVs headed your way soon:
* Maruti Suzuki S-Cross
PRICES STARTING FROM: Rs 10-11 lakh
Engine: 1.6-litre diesel, 1.6-litre petrol
The S-Cross, which should make its way to India in the latter half of 2014, will be pitched at those looking for an good blend of an SUV and a car. The S-Cross is an evolution of the European SX4, but is built on a longer wheelbase. The long bonnet, steeply raked windscreen and long roof that drops coupé-like to the rear give the S-Cross very good flow in terms of design, and Suzuki has added body cladding and roof rails to give it a more SUV-ish appearance.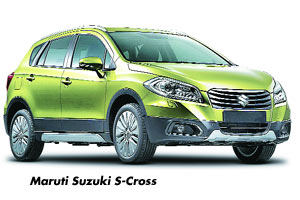 The interiors are wide and spacious, and a lot of bits will most probably be shared with the Swift. We're not certain where Suzuki will position the SUV, but we're guessing it will be somewhere between the Ford EcoSport and Renault Duster.
* Honda Brio SUV
PRICES STARTING FROM: Rs 6-9 lakh
Engine: 1.2-litre petrol, 1.5-litre diesel
Honda's compact SUV the Vezel, which was showcased at the Tokyo motor show, will unfortunately not make its way to India. Pricing the SUV in Ford EcoSport territory is difficult. But the good news is that Honda, after re-evaluating its strategy for India, has decided instead to develop a compact SUV on the Brio platform. Honda has already stretched this platform to make the Mobilio MPV, but the platform wasn't designed for an SUV, so Honda will have to modify the wheel wells to accommodate larger SUV tyres. What's unclear right now though is whether Honda will be able to design the SUV such that it ducks under the four-metre mark to avail of tax benefits.
* Mahindra Compact SUV
PRICES STARTING FROM: Rs 5 lakh
Engine: 1.5-litre diesel
The Quanto may not have lived up to Mahindra's expectations, but there's a new compact SUV that the carmaker is working on. Codenamed S101, the compact SUV will join Mahindra's three other compact offerings.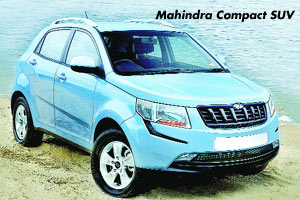 The S101 is built on a new, car-like monocoque platform. The wide front bumper, the flared wheel arches and the high grille have ensured that the S101 has plenty of visual bulk. Mahindra's unique positioning of