Tariff relief at Mundra likely, stock offers upside despite lower coal prices
The Tata Power stock has underperformed the Sensex by 11% during last 12 months after commissioning of Unit 1 at Mundra which is running at an operating loss and also due to fall in international coal price impacting the company's profitability. We expect marginal tariff relief at Mundra as highly probable and believe the stock offers upside despite lower coal prices. Upgrade to OW (V) from Neutral (V), raise net profit estimates by 11% for FY14 & TP (target price) to R125 (from R108) on 25 paise higher tariff recovery expectation at Mundra.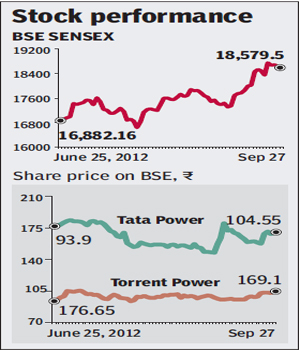 We believe tariff relief at Mundra is highly probable: We believe if central regulator (CERC) agrees that the case falls under its jurisdiction, it is likely to examine if Mundra project, where the tariff was determined through a bidding process, deserves a tariff relief as the project is operating at a negative return.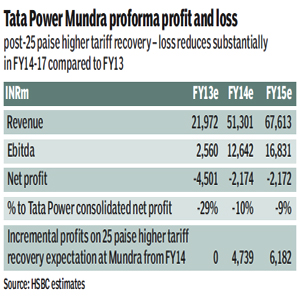 While the question itself is complex and far reaching for the private power companies, we believe that there is a general consensus among stakeholders that while generators should not be loaded with long-term fuel risk, they should also not be allowed to earn super-normal profit by controlling the fuel source. Hence regulator is likely to take a holistic view and also consider the earnings from their coal business while calculating the losses. We expect that the company is likely to get a relief of 25 paise of the 35-40 paise per unit loss expected in the initial 4-5 years. We also believe that litigation will be time consuming.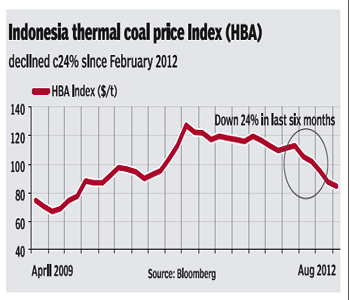 Our estimate results in additional net profit of R6.2 bn per annum for Tata Power (27% of FY15e net profit) raising our target price by R16/share. Despite assuming this tariff relief, the power tariff from Mundra project will be significantly lower (at R2.68 per unit for FY14) than any other imported coal-based project. For instance, the most recent imported coal-based project which is on a cost plus basis is getting a tariff of R4.2/unit (Lanco Udupi power project).
Decline in global coal prices has reduced profitability but we see prices remaining flat & limited downside: The profitability at its coal business (57% of FY12 Ebit) is expected to be under pressure in FY13 due to decline in coal prices. While Q1 prices have been at $84