The civil aviation ministry has cleared Tata Group, Singapore Airlines proposal for starting a new airline and has issued a no-objection certificate (NOC) to the airline. The approval has come in less than a week after the home ministry approved security clearances to its three board members.
"The minister has approved the NOC for Tata Group, Singapore Airlines JV this evening and the airline will be informed soon. Now, the airline company will have to apply to the Directorate General of Civil Aviation (DGCA) for air operators' permit (AOP)," said a senior civil aviation ministry official.
The AOP application process requires the airline to fulfill all technical specifications required to launch an airline.
The official added that the home ministry has provided security clearance to three directors — one foreigner and two Indians — to be on the board of the carrier.
Tata Group, Singapore Airlines will be the second new carrier to join the Indian aviation market after the foreign direct investment rules were relaxed by the government in September 2012. The first proposal for a new airline was by AirAsia, which is launching a new subsidiary with Tata Sons and Arun Bhatia of Telestra Tradeplace. AirAsia India's proposal had received NOC in September last year.
Tata-SIA's NOC has been one of the fastest, with the airline being able to get it within three months. The airline had applied for an NOC at the end of December.
The firm welcomed the approval and said that they will apply for the AOP the moment they receive their NOC letter from the government. "We have been working to ensure that we are able to achieve all required to fetch an AOP from the DGCA. We will surely able to fulfill all the conditions mandated by the aviation regulator to launch a new airline in the country," said TATA-SIA public affairs vice president Sanjay Singh.
Tata Sons had announced the launch of a full-service carrier with SIA in India in September last year. The Indian firm will own 51 per cent in the JV and the rest will be owned by SIA.
Also read: Microsoft reveals Siri-like Windows Phone feature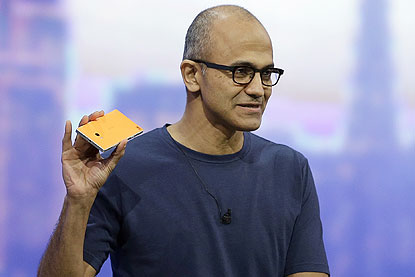 IMicrosoft Corporation CEO Satya Nadella holds up the Nokia Lumia 930 phone that uses Windows 8.1 during the keynote address of the Build Conference in San Francisco. (AP)