Unlike most devices, the Acer Iconia W4 puts the full-fledged Windows 8 operating system on a portable tablet with an 8-inch screen, much like an iPad Mini.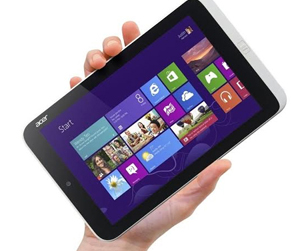 Quick Tech Specs: 8-inch IPS display (1280x800 pixels) | 1.8GHz quad-core Intel Atom Z3740 processor | 2GB RAM | 64GB storage + microSD slot | 5MP rear camera, 2MP front camera | Wi-Fi 802.11 a/b/g/n | 415gms | 4950mAh battery | Windows 8.1
Design: The Iconia W4 has a plastic body made to seem like metal, but it's still solid and feels good to hold. It's much heavier than tablets of this size and it gets uncomfortable to hold the tablet up and read books for more than half an hour.
Screen: No complaints about the W4's screen. It's bright, the resolution is decent and the viewing angles are good. The only issue is that it's not clearly visible in direct sunlight.
Performance: Most of the Modern UI apps run fine, but beware if you plan on running Firefox or Chrome. These web browsers quickly hog the limited resources and the Iconia W4 will start crawling. It especially struggles if you connect it to a large screen via the HDMI cable.
Memory: You get 51.9GB of available on the 64GB version that we tested. Install a few apps and let System Restore perform a few backups and this quickly drops to 43GB. So if you were using the 32GB version of the W4, that's only 11GB of storage space available to you. Thankfully, there's a microSD slot so you can add extra memory if needed.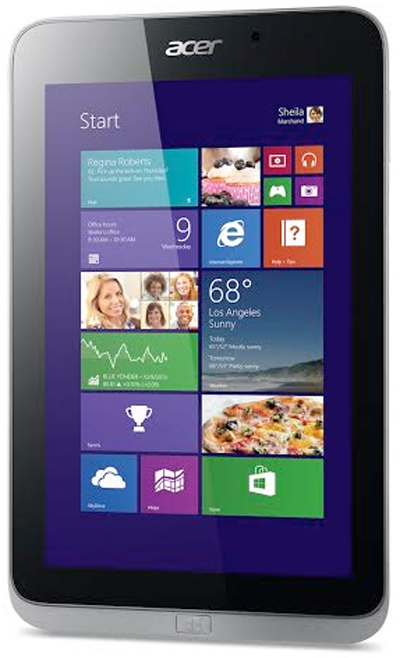 Software: We have a detailed article about running Windows 8 on an 8-inch tablet. Here's the short version: Despite the power of Windows and Microsoft Office, it doesn't feel good and does not offer as useful an experience as Android or iOS.

Camera: The rear camera on the W4 is practically useless. Sure, you can click a few snaps when you're out in natural light, but that's about it. Photos taken indoors, at night, or in dim environments are noisy and grainy. The front cam, however, does the job for video calling. Again, just make sure you have something lighting your face.

Battery: The best part of the tablet, without a doubt, is its battery. On continuous video playback, it lasted for