It was supposed to be a year in which a lot was supposed to change. A lot did change, but not always in the way it was predicted to. For instance, Windows 8 did not become the runaway success it was expected to be and so the devices that we were banking on this new operating system did not exactly fly off the shelf. In smartphones, Android consolidated its position, but even then the new Apple iPhone 5S got away to another flying start and Windows Phones started developing as a viable third option for millions of people. The phablet started establishing itself as the most popular form factor among smartphones. Size played a crucial factor in tablets too as most manufacturers started focussing on the seven and eight inch segments, with larger sizes slowly becoming a niche segment. Here is our pick of the best devices in the three most popular device categories.
Top 5 laptops
LENOVO THINKPAD TWIST
Picking the best laptop of 2013 was a tough ask as there were many devices which could claim this throne. Finally, it was the Lenovo's new ThinkPad Twist that took away the honours as it was the first ultrabook convertible that did the transitions without making it look like a gimmick. Its screen can turn 180 degrees, bend and fold back to become a tablet with four—laptop, stand, tent and tablet modes—like the Lenovo's much acclaimed IdeaPad Yoga. It looks at all options a user might need and hence packs a track-point along with the touchscreen, as well as an unconventional touchpad with a scrolling button as well. The 13-inch device has a military grade 20 mm magnesium hybrid body weighing just 1.6 kg. Despite its slim fit, the device manages superb processing power and is one of the fastest Intel Core i5 devices around.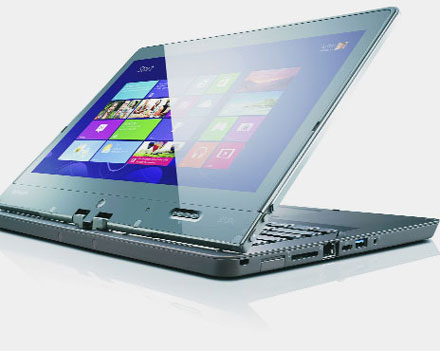 Price: Rs 71,000+
MACBOOK PRO 15
It is almost like a no-brainer to put a MacBook in a list of top laptops. However, this time the MacBook Pro 15-inch is at number two primarily because the Rupee fluctuations have once again made it terribly expensive. But when it comes to raw power, there is no comparison to the combination that gives you a 2.0 GHz quad-core Intel Core i7 processor with the latest Intel Iris Pro graphics on a retina display screen. Plus, there is the new operating system X