2014 will see new entrants in the banking sector and the RBI is also pushing for alternative banking channels, such as white label ATMs, to bring unbanked areas under its fold
With more than half the country still unbanked or financially under-served, RBI governor Raghuram Rajan had urged banks to think out of the box when it comes to financial inclusion and not just limit themselves to opening bank accounts.
"Innovation in reaching out to the under-served customer, rather than simply posting higher numbers in branches or bank accounts opened, has to be part of our efforts," he had said on November 15.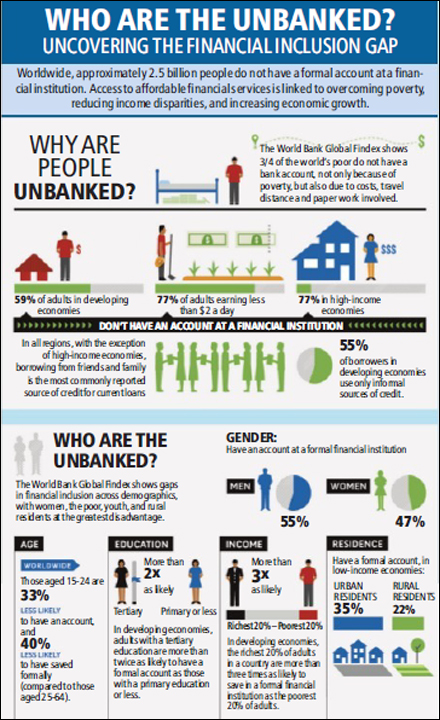 Innovation will certainly be the name of the game in 2014 that will see new entrants in the banking sector as well as the possible rise of a host of alternative banking channels to make formal credit mechanisms more accessible.
White Label ATMs, innovative techniques for doorstep banking and pre-paid cards for making purchases, money transfers and even saving for pensions are on their way to make formal banking more accessible for a country where just 35 per cent of adults have access to a formal bank account and eight per cent borrowed formally in the last 12 months.
The findings, which are a part of the World Bank Findex Survey 2012 also reveal that only two per cent adults use a bank account to receive money from a family member and only four per cent use an account for payments from the government.
In 2014, White Label ATMs could possibly be a game changer in the area of financial inclusion. Of the 13 companies licensed by the RBI for WLAs, Tata Communications Payments Solutions has already begun operations while Muthoot Finance is set to launch early next year.
"We have applied to the RBI for final approval, which is likely by the first week of January. So, we shall start rolling out ATMs 30 to 45 days after that," said KR Bijimon, chief general manager, Muthoot Group, which plans to set up 9,000 such ATMs within three years of operations.
Meanwhile, Tata Communications Payment Solutions, which launched WLAs under the brand Indicash in June 2013 plans to deploy 5,000 such devices by June 2014.
"We have already set up 600 WLAs in Tier III cities and below in states including Maharashtra, Kerala, Karnataka, Delhi, West Bengal. Most WLAs are witnessing reasonable number of transactions,"