Audi is preparing to launch one of its most important new cars, the new A3 saloon, this year. Unlike its German compatriots Mercedes-Benz and BMW who sell the A-class and 1-series luxury hatchbacks here, Audi says our market isnít ready for luxury hatches yet and that a saloon is a more attractive alternative. It could be right.
Due on sale mid-2014, with bookings starting earlier, the A3 saloon could well turn out to be Audiís most popular model in India. Audi today is probably Indiaís most sought after luxury brand and the effect a considerably more affordable saloon could have could be dramatic.
Whatís it like outside?
As the name suggests, this is a saloon that will be positioned below the A4 in Audiís line-up. In fact, it looks almost exactly like an A4 from most angles. But donít be fooled; the A3 is a half size smaller when you see it in person. In fact, at 4,456 mm long and 1,796 mm wide, itís only about the same size as a Toyota Corolla Altis (the 2,636 mm wheelbase is just 36 mm longer).
As you would imagine, then, the space inside the cabin will be a little less than what you get in an A4. But the A3 isnít cramped and thereís a very important reason for this. While all the bigger Audi saloon cars mount their engines longitudinally (in a north-south, lengthways direction), the A3 is the first one to mount it transversely or left to right. This layout takes up less space in the engine bay, so the bonnet can be made smaller and more space can be given to the cabin. In fact, space in the front is as good as that of an A4 and legroom at the rear is only marginally less. Only, the small rear doors make getting in and out a bit Ďtightí.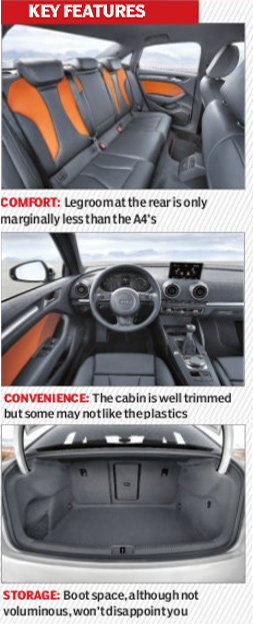 Whatís it like inside?
The cabin itself is very well trimmed; this may be the baby of the Audi saloons, but the look and feel is exactly what youíd get from the bigger cars in the range. Build quality is very high too and you almost instantly know that this is an Audi cabin. There are beautiful textures, perfectly fitting plastics and plenty of metal garnishing, so as always, the Audiís cabin feels special. There are some less than perfect bits as wellólike the plastics on the