With touchscreens commanding more and more attention from young and old alike, manufacturers have started bringing out touchscreen phones on a budget. After Samsung launched its "Champ" touchscreen phone at the under Rs 5,000 price, more manufacturers have joined in and started launching budget touchscreen phones. Micromax has launched its dual-SIM X550 Cube touchscreen device with a range of features that are not available to consumers at its price.
The X550 cube looks very urban and would attract young students who are looking at a budget touchscreen device. The phone has a smooth matte finish across the body with a 3.2" resistive touchscreen dominating the front. There is a single button (in shiny purple) on the front under the display that functions as the back button and on the right side are the volume keys and camera shutter key. At the base is a microUSB port and a 3.5 mm audio port. The power/hold button is at the top, and its a bit too small and poorly nested in the body for comfortable use.
Coming to the user-interface, the home-screen has animated wallpapers that are touch sensitive almost like the ones found on Android devices. There is a quick application launcher at the bottom, but it has a few select applications to choose from. At the bottom itself is a menu icon and a back icon for easy navigation. The main menu area is the actual cube interface by which the phone's name has been inspired.
A single touch on the icon and the 4 menu pages show up in a cube format which can be rotated easily to quickly move through menu pages. The main menu can also be navigated by pressing on the display and moving the finger left or right. This way it the navigation occurs in a 3D wall motion.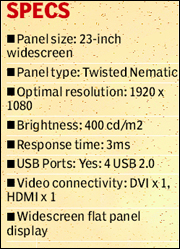 The interesting part is that the UI on the whole is very zippy and quick to respond. The only issue we had was with the lock screen as it requires the user to move the lock slider upto 75% of the display to unlock the screen which is a pain.
Typing an SMS is another major issue we faced. The onscreen QWERTY keyboard is one of the things that cripples the value of the phone. First of all the onscreen keys are too small to comfortably use with fingers and secondly, instead of