THE dispute between Toyota Kirloskar Motor (TKM) and the employees' union continued into its third day on Wednesday, even as the union made a representation to the Apprenticeship Board alleging the company was violating rules by employing apprentices to run its plants. Toyota had, a day earlier, responded to the allegation saying it was untrue and that plant operations were being run on a limited scale with the help of non-unionised team members, mostly supervisors and engineers. * Check car prices: All Models
The standoff is expected to have caused the company a production loss of around 4,000 vehicles.
At least 3,000 workers had assembled at the labour commissioner's office here while the union made the complaint, Satish R, general secretary of the TKM Employees Union, told FE. He added that the union has received a copy of the report, referring the dispute to the government for a decision from the labour commissioner's office.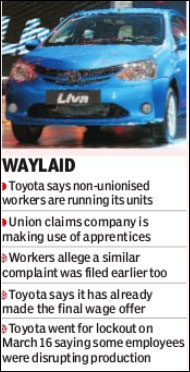 A Toyota official claimed that a few union members were turning up for work at the carmaker's two plants at Bidadi but the union countered that saying that only one or two of its members had gone in on Monday, when the lockout was lifted, and none since. "The turnout should get better, or it is just a matter of time till the government comes forward," the Toyota official said, adding the conciliation process was over as the company had made its final offer on the wage negotiation.

The government can refer the dispute for adjudication although it is not known yet as to what course of action it will take. A labour department official confirmed that the dispute had been referred to the government.

"We will wait for some time. We are hoping the government will intervene," Satish said. The union claims its 4,200 members have not been allowed to join work as they refused to sign a good conduct undertaking that Toyota has insisted upon as a condition for lifting the eight-day lockout.

Toyota had declared a lockout on March 16 on the grounds that a few employees were disrupting production after protracted wage negotiations between the management and the union proved inconclusive. The lock-out was lifted on March 24 after meetings were held at the labour commissioner's office.

According to Toyota, the company's two plants have a total of 4,500 Grade 8 employees who are part of a union