The beginning of the year 2014 witnessed the unwrapping of various sensational cars at the 2014 Auto Expo. Most of the cars unveiled at the Auto Expo, including a long list of B+ segment hatches, are reported to be launched within 2014. The B+ segment in India secures a large share in total automobile sales, therefore frequent arrival of the face-lifts and next generation is highly important. This year cars like Skoda Fabia, Maruti Suzuki Swift, Hyundai i20, Ford Figo and Fiat Punto are anticipated to receive face-lifts.
Recently, the Czech Republican car maker, Skoda affirmed that they will introduce next-generation Skoda Fabia this year. The third-generation of this hatchback is said to receive radical changes. Earlier in 2008 the company launched the second generation of Fabia in India and it is the apt time to update company's entry level car when it is craving for its face-lift. The new Fabia will get company's latest logo, simple but fresh posture and edges across its profiles. The 1.2L TDI mill of current Fabia is said to be replaced by a new 1.5L TDI engine that will produce 89bhp of peak power; this is the new engine that will be coming in the updated VW Polo. Moreover, the petrol line-up might be powered by the 1.2L TSI motor from VW GT TSI. In addition, the new Fabia is speculated to get two transmission options - Dual-Clutch DSG AT Box and a Five speed manual transmission option.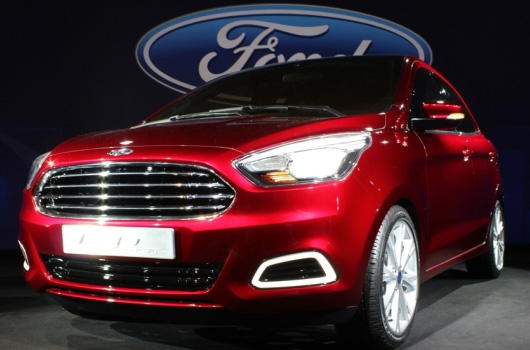 The next generation Ford Figo will get new grille that makes it look like Aston Martin cars.
Besides, the American car maker in India, Ford is also looking forward to introduce next generation Ford Figo by 2014 end. The revamped Figo is said to get an all new 1.0L ECOnetic power-train that incorporates Dual-command TiVCT (Twin Independent Variable Camshaft Timing). Added to this, the petrol motor will also be capable to produce maximum power of around 85bhp at 6500 rpm. The next generation Figo will be entirely different from what it looks at present. It will get new grille that makes it look like Aston Martin cars. Moreover, new DRLs, fresh headlights, unique bumpers and stylish alloy wheels are sure to delight the enthusiasts.
Similarly, India's largest car maker, Maruti Suzuki is also looking forward to launch the refurbished Swift this year. The company has launched this car