Earning and managing money for wealth creation and capital protection are two different aspects. With the explosion of information and plethora of products, you are spoilt for choice, and decision making in such a scenario becomes difficult. And that's when you typically want to reach out for guidance.
In fact, taking this as a cue, the Securities and Exchange Board of India (Sebi) has brought in a regulation — Investment Advisers (Regulations), 2013, which provides a direction into the way and manner in which a financial advisor needs to carry out his duties with respect to advisory, documentation and qualifications.
For investors, an ideal advisor or a financial institution should be one which looks after your interests and will hold your hand when the going gets tough. Will ensure safety of capital and enable you to reach your stated goals, riding the volatility as well as the good times.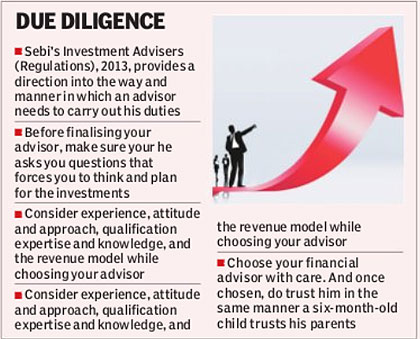 An entity with whom you can feel safe when the situation seems to be a roller coaster ride. So as an investor are you asking for the Moon? Well, the needs looks elementary and basic. But then why are we increasingly hearing horror stories about investors being taken for a ride and fewer stories of harmonious client-advisor relationship.
Deciphering the relationship
When you buy a house or a car or a television, you do a lot of research. You check multiple stores and sites and evaluate every detail. And not to forget, these are typically consumption needs, except for housing, which is also an investment. So why when you look at creating and maintaining wealth, you look for a discount from the entity which provides this service?
Before finalising your advisor, make sure your financial advisor asks you questions that forces you to think and plan for the investments. Some of them could be like — is it product-driven or return-driven or is it goal-driven? Have you noted down your investment process, vide a document called investment policy statement, which outlines the investment methodology to be followed? Do you know what you want to achieve in terms of wealth creation?
The first step is to choose your advisor with care and caution and once you have done that, trust him to do his job. The key factors that you need to consider when choosing your advisor is his experience, attitude and approach, qualification expertise and knowledge, his revenue