In India, scooters never went out of style, they just had to be reinvented. Honda Motorcycle and Scooter India (HMSI) precisely did that with its Activa—a scooter that, last year, briefly became the highest selling two-wheeler in the country. But the veteran in the Indian scooter space is not HMSI, but TVS Motor (okay, hamara Bajaj also, but the company exited the scooter space some time ago). TVS, which has in its portfolio the well-received Scooty Pep, Streak and Wego scooters, has now launched the Jupiter, which the company is directly aiming at the best-selling Activa.
The design
Unlike the Wego, which looks fairly distinct, the Jupiter is a far more generic and contemporary looking scooter. It has got cleanly moulded body panels that will catch your eye; the front indicators especially look smart. Then, because it rides on large, 12-inch wheels, the Jupiter comes across as a relatively taller scooter. The Jupiter, in fact, can pass off as a young college-going student's scooter, a housewife's commuting bike, a retired official's morning-ride-to-the-park vehicle, or even as a salesperson's daily companion.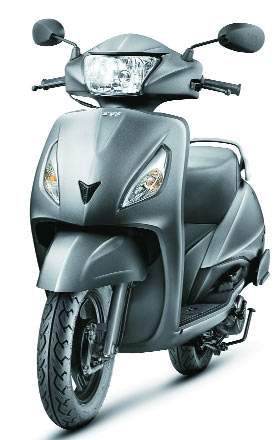 The practicality
Where the Jupiter scores is not in terms of looks, but practicality. First, you get retractable bag hooks on which you can hang your groceries or other stuff. Need more? Open and seat and there is a 17-litre boot that, though, is primarily to keep your helmet, but can also be used for storing your bags. There is also an under-seat mobile charger that allows charging on the go. Its seat is large and well-cushioned, and the seating position is upright, with the handlebars rightly placed to make you feel comfortable for those long rides. Then, there is also a pass-by switch which the Jupiter introduces to the scooter segment.
The Jupiter's fuel tank, which has a capacity of 5 litres, can be filled via an external fuel filler (you don't need to get off the scooter and raise the seat for refuelling). And as far as I have researched, this convenience is currently offered only on TVS scooters. It results in not only hassle-free quick refuelling, but can also protect the under-seat storage contents from petrol fumes.
The powerplant
The Jupiter is powered by a single-cylinder 109.7-cc engine that makes a decent 8 bhp of power and 8 Nm of torque.
The ride
The best thing about the Jupiter is the way it rides. The 12-inch tyres grip the