Two ships with sophisticated equipment for searching underwater zeroed in Friday on a remote stretch of the Indian Ocean in a desperate hunt for the missing Malaysia Airlines jet's black boxes, whose batteries will soon run out.
An arduous weeks-long hunt has not turned up a single piece of wreckage, which could have led the searchers to the plane and eventually to its black boxes containing key information about the flight. But the searchers have apparently decided to make a direct attempt to find the devices, whose batteries last about a month.
Malaysia Airlines MH370 search ops given greater thrust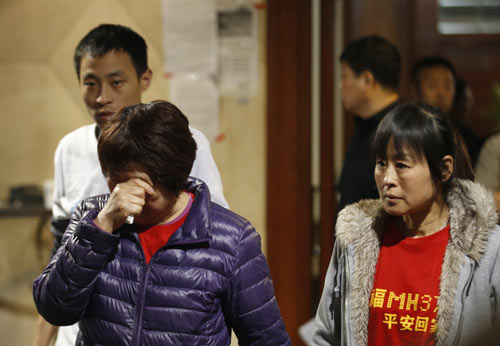 A relative of a passenger aboard Malaysia Airlines Flight MH370 cries after attending a video conference with the Malaysian government and Malaysia Airlines officials from Kuala Lumpur, at the Lido Hotel in Beijing. The search for the missing Malaysia Airlines Flight 370 resumed, even as senior Australian officials warned that bad weather and a lack of reliable information were seriously impeding efforts to locate the plane's wreckage.(Reuters)
Two ships with equipment that can hear the black boxes' pings were slowly making their way along a 240-kilometer (150-mile) route that investigators are hoping may be close to the spot Flight 370 entered the water after it vanished March 8 on a flight from Kuala Lumpur, Malaysia, to Beijing.
But the head of the joint agency coordinating the search acknowledged that the search area was essentially just a best guess _ and noted that time was running out for search crews to find the coveted data recorders.
"The locater beacon will last about a month before it ceases its transmissions _ so we're now getting pretty close to the time when it might expire,'' Angus Houston said.
The Australian navy ship Ocean Shield, which is dragging a towed pinger locator from the U.S. Navy, and the British navy's HMS Echo, which has underwater search gear on board, were looking for the black boxes in an area that investigators' settled on after analyzing hourly satellite pings the aircraft gave off after it disappeared. That information, combined with data on the estimated speed and performance of the aircraft, led them to that specific stretch of ocean, Houston said.
"The area of highest probability as to where the aircraft might have entered the water is the area where the underwater search will commence,'' he said. ``It's on the basis of