Two weeks after a Malaysia Airlines airliner went missing with 239 people on board, officials are bracing for the "long haul" as searches by more than two dozen countries turn up little but frustration and fresh questions.
The international team hunting Flight MH370 in the remote southern Indian Ocean returned on Saturday to an area where suspected debris was spotted by satellite earlier this week.
Six aircraft and two merchant ships are scouring the area, though Australian officials have cautioned the objects, one up to 24 metres (72 feet) in length, may not be related to the missing aircraft or might have sunk.
China, Japan and India are sending planes and Australian and Chinese navy vessels are steaming to the zone, more than 2,000km (1,200 miles) southwest of Perth.
"Weather conditions in the search area are good, with 10 km (six miles) of visibility," said Australian Maritime Safety Authority Sam Cardwell.
Aircraft and ships have also renewed the search in the Andaman Sea between India and Thailand, going over areas that have already been exhaustively swept to find some clue to unlock one of the biggest mysteries in modern aviation.
Malaysian officials have been realistic about their ability to lead the operation with a global dynamic that some have said is beyond the country's technical capabilities and expertise.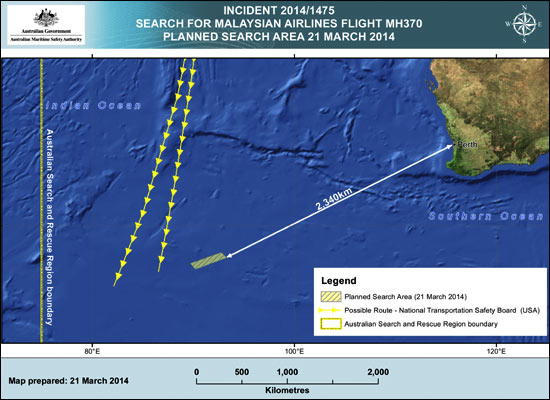 A graphic provided by Australian Maritime Safety Authority shows an area in the southern Indian Ocean that the AMSA is concentrating its search for the missing Malaysia Airlines Flight MH370. (AP).
"This continues to be a multinational effort coordinated by Malaysia, involving dozens of countries from around the world," Malaysian Defence Minister Hishammuddin Hussein said at a briefing on Friday.
Malaysia welcomed "all assistance to continue to follow all credible leads", said Hishammuddin, who is also acting transport minister.
Also read: Search for missing Malaysia Airlines Flight MH370 resumes in remote southern Indian Ocean
He said searchers were facing the "long haul" but were conscious that the clock was ticking. The plane's "black box" voice and data recorder only transmits an electronic signal for about 30 days before its battery dies, after which it will be far more difficult to locate.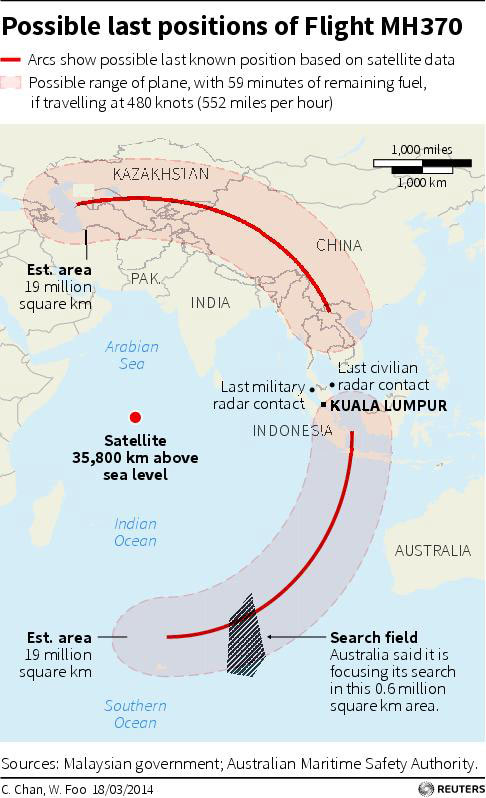 Investigators suspect the Boeing 777, which took off from Kuala Lumpur for Beijing shortly after midnight on March 8, was deliberately diverted thousands of miles from its scheduled path. They say they