The prolonged search for the crashed Malaysia Airlines Flight MH370 continued today as a British nuclear submarine joined the multinational hunt in the Indian Ocean, ahead of Malaysian Prime Minister Najib Razak's visit here.
Razak will visit the RAAF Pearce air base - the departure point for the seven-nation search for the missing Malaysia Airlines Flight MH370, that went mysteriously missing on March 8 after its take-off from Kuala Lumpur with 239 people on board.
According to media reports here, Britain's Royal Navy submarine HMS Tireless arrived in the search area about 1,500 kilometres northwest of Perth this morning. The personal jet of Peter Jackson - Oscar-winning New Zealand movie director - is also being used in the hunt.
Also read: After the disappearance of Malaysia Airlines MH370, Airlines should look at livestreaming flight data: IATA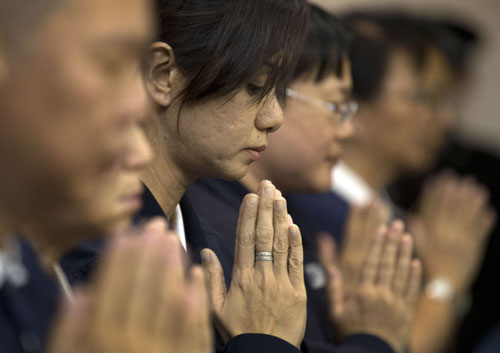 Volunteers from Taiwan's buddhist association offer prayer for the Chinese passengers aboard the missing Malaysia Airlines flight MH370, at a hotel in Beijing, China. Australia deployed Tuesday an airborne traffic controller over the Indian Ocean to prevent a mid-air collision among the many aircraft searching for the Malaysia Airlines jetliner that went missing over three weeks ago. (AP)
Up to 10 planes and nine ships will assist in today's search for the Malaysia Airlines MH370 Boeing 777-200, a new Joint Agency Co- ordination Centre (JACC) here managing the search said in a statement today.
Also read: Authorities release transcript of last words from missing Malaysia Airlines MH370
The Australian Maritime Safety Authority has determined a search area of about 221,000 square kilometres, 1,504 kilometres northwest of Perth.
Nine military planes will assist in the search, while one civil jet will provide a communications relay. The first aircraft departed for the search area at 6am local time.
Nine ships have been tasked for the search for Malaysia Airlines plane, that entered its 25th day today.
The weather forecast for today's search is for marginal conditions, with areas of broken cloud, sea fog and isolated thunderstorms, reducing visibility, the statement said.
Retired Australian Air Chief Marshal Angus Houston, heading the JACC, yesterday said it was the most challenging search and rescue operation he had ever seen and warned efforts to trace the wreckage could take time.
He said the task of finding Malaysia Airlines plane was "very complex", "very demanding" because the teams had