As the workers' union threatened to go on strike unless employees were given stock options at discounted price, Rajiv Bajaj, MD of Bajaj Auto, said on Thursday that while the demands of the union were somewhat "preposterous the last time in June 2013, they are entirely insane this time".
In a veiled threat, Bajaj indicated tough action is on the way. "It seems to me that with some of the irresponsible union leaders and members, the management is guilty of sparing the rod and spoiling the child," he said.
Bajaj said the company would not repeat that error while taking care to ensure the safety of the majority of those who wish to continue to work, as also the continuity of production so as to protect the interests of Bajaj Auto's customers, dealers and suppliers.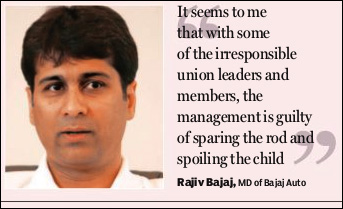 The Vishwakalyan Kamgar Sanghatana at Bajaj Auto's Chakan plant has threatened to go on strike from April 28 and stop work from the morning shift onwards. It is once again demanding stock options with 500 shares for each worker at R10, 50% of Bajaj Auto's CSR spend on an education fund for workers' children and setting up of a museum in memory of Bajaj Group founder Jamnalal Bajaj, along with a 30ft statue of his at the Chakan plant.
The union has been trying to negotiate a wage settlement with the company for almost a year now with no success. It is fighting a case in the Pune industrial court as well.
The wage dispute between the Bajaj Auto management and VKS union will come up at the Bombay High Court on April 23.